Obama Forecasts How Biden Administration Will Enact Amnesty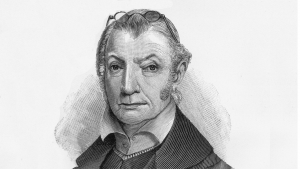 On his website, former Vice President (and presumptive Democratic candidate for president) Joe Biden vows, if elected, to pass legislation "providing a roadmap to citizenship for nearly 11 million undocumented immigrants". Last week, his old boss, former President Barack Obama , explained how Biden (or whoever controls him) will do it: by eliminating the filibuster.By,
On his website, former Vice President (and presumptive Democratic candidate for president) Joe Biden vows, if elected, to pass legislation "providing a roadmap to citizenship for nearly 11 million undocumented immigrants". Last week, his old boss, former

, explained how Biden (or whoever controls him) will do it: by eliminating the filibuster.By way of background, and simply put, the filibuster (from the Dutch for "pirate") is a way to block or delay the passage of legislation in the Senate. Under Senate rules, it requires a supermajority of 60 votes to end a filibuster and move to consideration of a bill.

To get more complicated, the practice comes from an 1806 rules change in the Upper Body (at the behest of then-Vice

President and President of the Senate Aaron Burr, best remembered as the man who killed Alexander Hamilton) that removed a provision (the "previous question motion"), which had allowed senators to pass a bill with a simple majority (still the rule in the House).

Senators may speak as long as they want on any issue, and if they refuse to yield, a vote on a bill cannot be taken until debate on the question is ended by means of a "cloture" vote (under Senate Rule 22).

Cloture is a more modern idea, promoted by then-President Woodrow Wilson in 1917, to bypass filibusters. It used to take two-thirds of the Senators "present and voting" to vote for cloture, but in 1975, that was reduced to "three-fifths of the Senators duly chosen and sworn" (60 of the current 100 senators).

The classic version of the filibuster is a major plot point in "Mr. Smith Goes to Washington", the classic 1939 Frank Capra film starring Jimmy Stewart as the title character, Sen. Jefferson Smith. As IMDB describes the film: "A naive man is appointed to fill a vacancy in the United States Senate. His plans promptly collide with political corruption, but he doesn't back down." Plainly fiction.

The naïve Sen. Smith is made the patsy in a corrupt scheme, and false evidence is used to frame him. He takes to the Senate floor and speaks for hours in an attempt to block a vote to expel him, refusing to yield until he is overcome with exhaustion and faints. Sen. Joseph Paine (Claude Rains), overcome with guilt at his part in the plot, runs off to kill himself and then confesses on the floor. Justice prevails.

In its more modern (and mundane) iteration, as noted, a bill cannot be passed in the Senate until debate is ended, which again requires 60 senators to invoke cloture.

Speaking at the funeral service of former Rep. John Lewis (D-Ga.) on Thursday, Obama suggested that Lewis could be honored by passing a number of legislative proposals (which the former president not surprisingly supports). He continued: "And if all this takes eliminating the filibuster — another Jim Crow relic — in order to secure the God-given rights of every American, then that's what we should do."

With respect to the middle proposition in that sentence (the one separated by dashes), the Senate website notes: "Filibusters were particularly useful to southern senators who sought to block civil rights legislation, including anti-lynching legislation, until cloture was invoked after a 60-day filibuster against the Civil Rights Act of 1964."

Twentieth century civil-rights legislation has a complex and somewhat surprising history. Then-Sen. John F. Kennedy (D-Mass.) voted against President Eisenhower's Civil Rights Act of 1957 — the first since Reconstruction — which dealt with voting rights. Senate icons Sam Ervin (D-N.C.), Al Gore, Sr. (D-Tenn.), John Stennis (D-Miss.), James Fulbright (D-Ark.), Strom Thurmond (D-S.C.), and Barry Goldwater (R-Ariz.) all voted against the Civil Rights Act of 1964.

That bill passed with an overwhelming majority of Republican votes (just fewer than 82 percent of the 33 Republican senators voted in favor, as compared to just fewer than 69 percent of Democrats). The Senate website notes: "Republican Leader Everett Dirksen [R-Ill.] delivered the most significant speech in his career in support of civil rights legislation. Dirksen gained key votes for cloture from Republicans with a powerful speech calling racial integration 'an idea whose time has come.'"

The filibuster, however, has not been limited in its use to civil rights legislation. Bernie Sanders (I-Vt.) launched an eight-and-a-half-hour filibuster in 2010 to block bipartisan tax legislation (described by NPR as "The Speech" that elevated Sanders' "Progressive Profile"). Populist Sen. Huey Long's (D-La.) filibuster of New Deal legislation in 1935 (to prevent his political opponents from obtaining positions in Franklin Roosevelt's National Recovery Administration) included recipes for oysters and "potlikker".

Despite modern floor-speech filibusters of the Bernie Sanders sort, such theatrics have largely been obviated by a change that then-Senate Majority Leader Mike Mansfield (D-Mont.) introduced in 1970: the two-track system, by which a filibustered bill can be set aside and the Senate can move on to other business, either with unanimous consent or with the agreement of the Minority Leader.

This, coupled with the aforementioned 1975 cloture change to "three-fifths of Senators duly chosen and sworn", has led to what one observer has called the "faux-filibuster", in which "a Senator at home in bed is a vote to continue the filibuster." In other words, it takes 60 votes to get a bill moving in the Senate.

Among supporters of the filibuster in the past were Amy Klobuchar (D-Minn.) and (by my count) a bipartisan group of 59 other senators, who sent a letter to Senate Majority Leader Mitch McConnell (R-Ky.) in 2017, following the appointment of Neil Gorsuch to the Supreme Court.

And, as David Harsanyi noted in National Review, then-Sen. Barack Obama (D-Ill.), in 2005 argued in favor of it:

What they don't expect is for one party — be it Republican or Democrat — to change the rules in the middle of the game so that they can make all the decisions while the other party is told to sit down and keep quiet. The American people want less partisanship in this town, but everyone in this chamber knows that if the majority chooses to end the filibuster — if they choose to change the rules and put an end to democratic debate – then the fighting and the bitterness and the gridlock will only get worse.

Of course, consistency in politics is a rare virtue (Obama himself filibustered the nomination of then-Judge Samuel Alito to the Supreme Court in 2006, an action he stated a decade later he regretted). But why would the former president change his mind now?

Simple: Obama believes that Biden will be elected, and that the Democrats will win a majority in the Senate in November, as the Wall Street Journal postulated on July 30. That will enable both to push for legislation that they want — like statehood for Puerto Rico and the District of Columbia. And amnesty for illegal aliens.

Each of these actions will solidify a Democratic majority into the foreseeable future, and give the party of Jackson the White House for as long.

Keep in mind that amnesty has come close to passage on more than one occasion in the recent past. The Comprehensive Immigration Reform Act of 2006 passed the Senate in May 2006 by a 62-36 margin, only to die in the then-Republican controlled House (which countered with the enforcement-heavy Border Protection, Antiterrorism, and Illegal Immigration Control Act of 2005, which passed the House 239-182).

The Border Security, Economic Opportunity, and Immigration Modernization Act (the "Gang of Eight" bill) passed the Democratic-controlled Senate in June 2013, only again to die in a Republican-controlled House.

Most significantly, the so-called DREAM Act was included in the Removal Clarification Act of 2010, which passed the Democratic-controlled House in a lame-duck session on December 8, 2010, 216-198. A cloture motion on the House amendment failed in the Senate on December 18, 2010, by a 55-41 vote (four senators did not vote), nine days after the DREAM Act of 2010 itself failed by one vote to gain the 60 votes needed in the Senate to proceed to debate.

If the Democrats maintain control of the House, win the White House, and gain control of the Senate and end the filibuster, amnesty would be among the first bills that would be rammed through to signature in the 117th Congress, for that most basic (and base) of reasons: power.

Assuming that there are 10.5 million illegal aliens in the United States (a conservative estimate the Pew Research Center in June 2019 made of the population in 2017), and depending on the parameters of the amnesty, that would mean that there could be that many new voters (or more) in 2026.

Most could be expected to vote Democratic. In a footnote in a separate Pew Research Center study in February 2020 ("Naturalized Citizens Make Up Record One-in-Ten U.S. Eligible Voters in 2020"), Pew noted that 53 percent of Hispanic immigrants who are eligible to vote identify with or lean toward the Democratic party, while 39 percent identify or lean toward the GOP. In 2012, Pew determined that 50 percent of "Asian Americans" identify with or lean toward the Democratic Party, while 28 percent were Republican.

The number of immigrant Hispanic Republicans seems high, given the fact that (again) Pew found that Hillary Clinton won 66 percent of the Hispanic vote in the 2016 election, as opposed to 28 percent for Donald Trump. That was actually lower than Obama's share of the Hispanic vote in 2012 (71 percent to 27 percent for Romney) or 2008 (67 percent to 31 percent for McCain). The high-water mark for Republicans among this demographic was 40 percent (once more, Pew) in 2004, but that was an outlier.

Given the fact that DHS estimated in December 2018 that 70 percent of the illegal-alien population in the United States in 2015 (which it estimated at 11.96 million) was Hispanic (59 percent from Mexico, 6 percent from El Salvador, 5 percent from Guatemala, and 4 percent from Honduras), even Pew's 14-point voting differential between Hispanic-immigrant Democrats and Republicans is huge.

There are more Salvadoran nationals illegally present in the United States (750,000) than there are residents of Alaska (735,720), the District of Columbia (711,571), Vermont (627,180), or Wyoming (572,381). And, more Mexican nationals here illegally (6,580,000) than residents in 32 U.S. states, Puerto Rico, and D.C.

In addition, there are large numbers of illegal aliens in swing states: 810,000 in Florida, 390,000 in North Carolina, and 380,000 in Arizona. Trump won Florida in 2016 by 119,770, North Carolina by 177,529, and Arizona by 84,904. Fourteen percent here and there starts to add up.

Nothing in Washington happens in a vacuum. Were the polls in favor of the president and Republicans in Congress, former President Obama likely would have stuck to his 2005 principles. Given that is not the case, the 2020 elections provide Dems an opportunity to change the rules, and thereby to change the electorate. All politics might be local, but it is usually self-serving, too.

Poor Jefferson Smith. As he said: "I wouldn't give you two cents for all your fancy rules if, behind them, they didn't have a little bit of plain, ordinary, everyday kindness and a little looking out for the other fella, too." He can probably keep his money.
Source: Obama Forecasts How Biden Administration Will Enact Amnesty
,
Biden plans sweeping reversal of Trump immigration agenda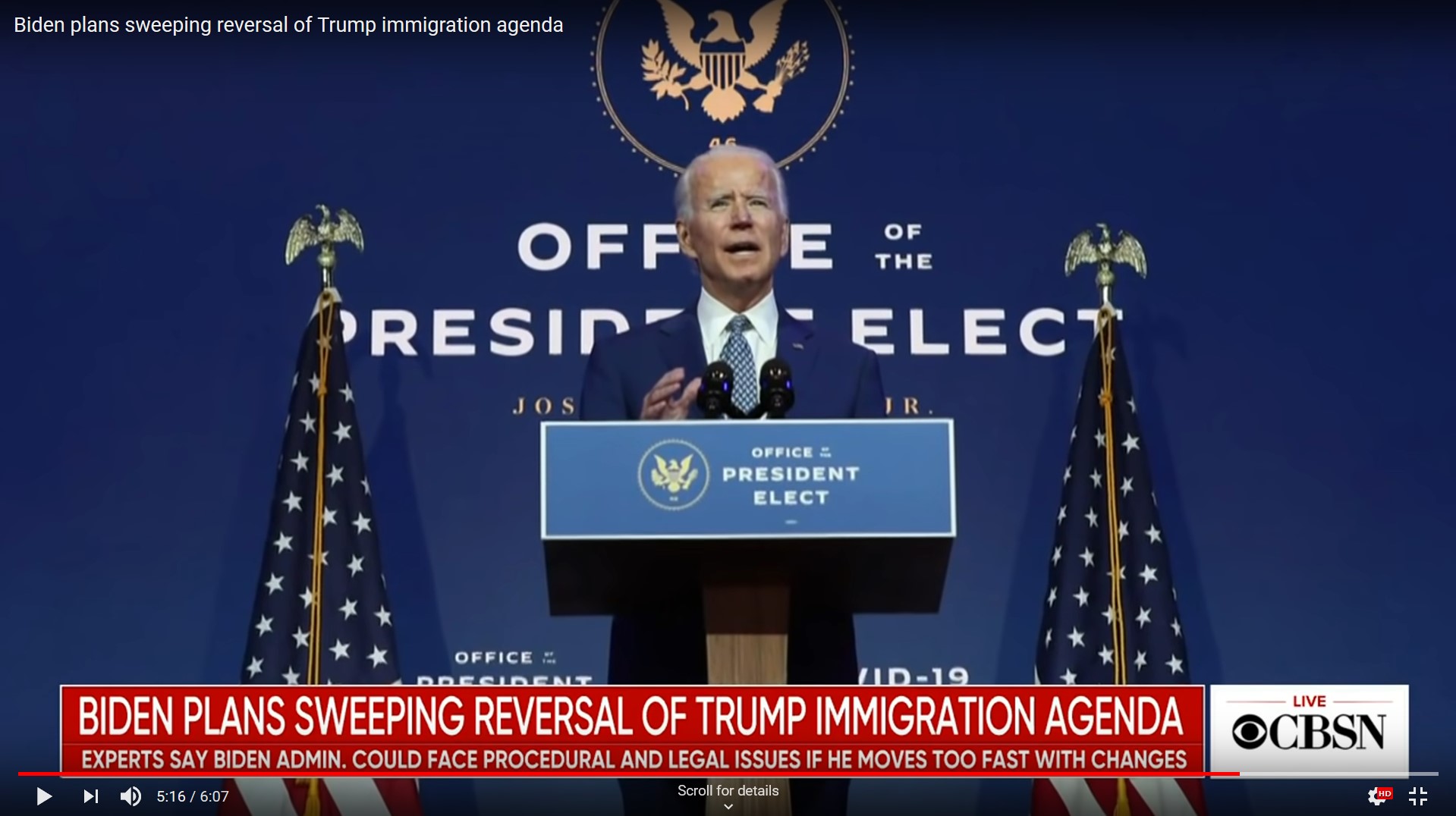 President-elect Joe Biden is planning a swift reversal of President Trump's most controversial immigration policies. CBS News' Camilo Montoya-Galvez reports the incoming Democrat plans to dismantle within his first 100 days much of the agenda Mr. Trump has laid out over the last four years. Montoya-Galvez joins CBSN to break down Mr. Biden's immigration plans.
Biden plans to unravel Trump's immigration policies during his first 100 days
Great news for DACA and Dreamers.
Where Does Joe Biden Stand on Immigration?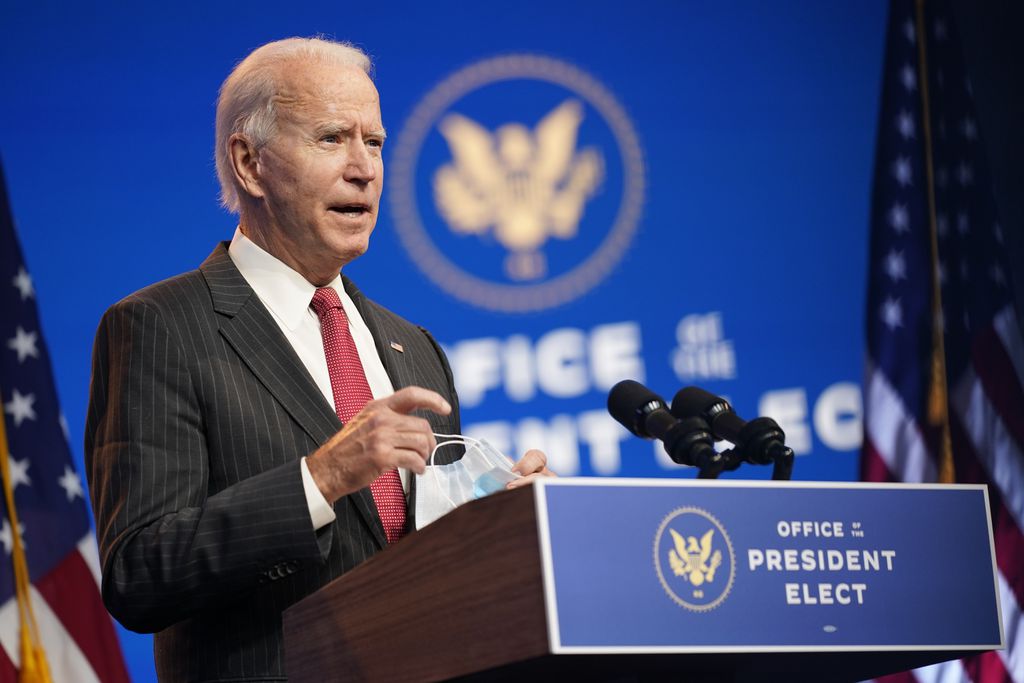 We are just 60 days away from Election day in the United States which falls on Tuesday, November 3rd. Do you know where your candidate stands on immigration? In this post, we cover Presidential nominee Joe Biden's stance on important immigration issues, and everything you need to know about his vision for America. We would,
We are just 60 days away from Election day in the United States which falls on Tuesday, November 3rd. Do you know where your candidate stands on immigration? In this post, we cover Presidential nominee Joe Biden's stance on important immigration issues, and everything you need to know about his vision for America.

We would also like to take this opportunity to remind those of our readers who are American citizens to exercise their right to vote. It is your civic duty and will help shape the nation's immigration policy for the next four years. For voter registration information please click here.

---

Immigration under Joe Biden

If elected President of the United States, Joe Biden has stated that he will enact a number of policies during his four-year term. Among these policies, he promises to take urgent action to undo destructive policies implemented by the Trump administration, modernize the immigration system, reassert America's commitment to asylum-seekers and refugees, and implement effective border screening.

---

Comprehensive Immigration Reform

First and foremost, Joe Biden supports working with Congress to pass a comprehensive immigration solution that would offer nearly 11 million undocumented immigrants a path to citizenship. As vice president, Joe Biden worked alongside former President Obama to push forward a bill that would do just that. Unfortunately, the Republican-led Congress refused to approve the bill, leaving millions of undocumented immigrants in limbo including Dreamers.

Joe Biden advocates for the creation and expansion of the Deferred Action for Childhood Arrivals program (DACA), the Deferred Action for Parents of Americans (DAPA) program,  the Central American Minors program, which allows parents with legal status in the U.S. to apply to bring their children from Central America to live with them, and the creation of a White House task force to support new Americans to integrate into American life and their communities.

---

Overview of Biden's Immigration Commitments

Temporary Seasonal Workers. Biden wishes to work with Congress to reform the current system of temporary work visas to allow seasonal workers in select industries to easily switch jobs, while certifying the labor market's need for foreign workers. Employers would be required to pay prevailing wages and ensure the right of all workers to join a union and exercise their labor rights.

High-skilled Temporary Visas. Biden will also work with Congress to reform temporary visas to establish a wage-based allocation process and create fraud prevention mechanisms. Biden supports expanding the number of high-skilled visas and eliminating the limits on employment-based visas by country, eliminating the backlogs.

Legalization for Agricultural Workers. For agricultural workers, Biden would support legislation between farmworkers and the agricultural industry to provide them with legal status based on prior agricultural work history, to ensure a "fast track" green card process ultimately workers them to apply for citizenship.

Removing Per-Country Cap Limitations. Biden is strongly against the current per-country cap visa limitations and the long waiting periods families must wait to be reunited. Biden will support a family-based immigration system allowing any approved applicant to receive a temporary non-immigrant visa until a permanent visa is processed, and will support legislation that treats spouses and children of green card holders as immediate relatives exempting them from the caps, and allowing parents to bring minor children with them at the time they immigrate.

Preserving the Diversity Visa Lottery Program. Biden will continue to support the diversity visa lottery program and preserve the program.

Increase Employment Based Visas. Regarding employment-based visas, Biden will work with Congress to increase the number of visas for permanent employment-based immigration and temporarily reduce the number of visas during times of high U.S. unemployment. Biden would exempt from any cap recent graduates of PhD programs in STEM fields in the US.

New Visa Category for Cities and Counties Seeking Immigrant Work. Biden supports creating a new visa category that would allow cities and counties to petition for higher levels of immigrant to support their growth, provided employers certify there are available jobs and no workers to fill them. Holders of these visas would need to work and reside in the city or county that petitioned them and be subject to certification protections similar to employment-based immigrants.

Expansion of U Visa Program. Biden will expand the U visa program to include eligibility for workers who report certain workplace crimes.

Increase visas for Domestic Violence Survivors and Victims of Crime. Finally, Biden plans to triple the current cap of 10,000 on U-visas and increase visas for domestic violence survivors.

---

Policy on Removal and Enforcement Actions

Joe Biden plans to focus his administration on prioritizing removal and enforcement actions on persons who pose a threat to national security and public safety. The Biden administration would not target the removal of working-class undocumented immigrants and their families. Biden also promises to end mass workplace raids and prevent enforcement actions and operations at sensitive locations including schools, hospitals, and places of worship.

With regard to the influx of undocumented immigration from Central America, the Biden administration would address the root of the problem, by securing bipartisan support and funding to countries in the Northern Triangle to help these countries tackle violence and insecurity, lack of economic opportunity, and corruption in the region.

---

Joe Biden's 100-Day Plan

Within his first 100 days in office, the Biden administration commits to:

Immediately reverse the Trump Administration's policies that have separated parents from children at the border, including ending prosecution of parents for minor immigration violations, and prioritizing family reunification.
Immediately reverse the Trump administration's public charge rule
End the "national emergency" imposed by the Trump administration to enable the Department of Defense to build a wall along the U.S./Mexico border
Protect Dreamers and their families, by reinstating the DACA program and exploring all legal options to protect families from inhumane separation
Restore and defend the naturalization process for green card holders by removing roadblocks to naturalization, addressing the application backlog and rejecting imposition of unreasonable fees
End the Trump administration's detrimental asylum policies
Rescind the travel and refugee bans also known as the "Muslim bans" by the Trump administration
Review Temporary Protected Status (TPS) for vulnerable populations and introduce a bill that will allow TPS/DED holders who have been in the country for an extended period of time, a path to citizenship
End the mismanagement of the asylum system to ensure asylum applications are processing fairly and efficiently
Increase humanitarian resources at the border through a network of organizations including faith-based shelters, non-governmental aid organizations, legal non-profits, and other organizations
End prolonged detention and investment in a case management program, by supporting the Flores agreement which prevents the detention of children indefinitely
Restore sensible enforcement prioritizes targeting threats to public safety and national security, and not workers and their families

To read more about Joe Biden's proposed policies on immigration please click here.

---
Source: Where Does Joe Biden Stand on Immigration?
,