In California, It Will Take More Than a Parade to Save an Imperiled Census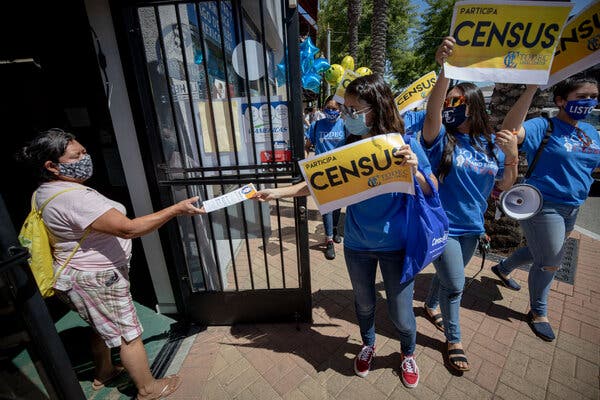 PERRIS, Calif. — For one day at least, as a 10-car parade of vehicles with honking horns, pompoms and signs reading "Get Counted" crawled through this predominantly Latino agricultural town about 70 miles east of Los Angeles on Friday, it was hard to forget that the 2020 census was going on and that it mattered.
Daniel Cordero, 63, a Mexican immigrant who shares a home with 15 people, including his wife, children and grandchildren, was just the kind of person that the event, billed as "Get Out the Count," was intended to reach.
But as he stepped out of his kitchenware store on D Street in downtown Perris on Friday to observe the parade, he wasn't quite sold. "We're working so hard, we don't have time to be filling out questionnaires," he said.
"I haven't filled it out," he added. "I have never filled it out." He took a flier from one of the volunteers, examining it like one of his customers contemplating his wares, and said that he might consider it. "It'd be the first time," he said without much enthusiasm, before returning to work in his store stocked with pots, pans, brooms and other household items.
It has always been a challenge to get an accurate count of people in places like this dusty working-class town of 80,000 people, where about three quarters of the population is Hispanic, many of them immigrants. Throw in a pandemic and a cascade of messages from President Trump making many Latinos wary of the census, and the challenge grows exponentially.
But when the Census Bureau on Monday said it would lop off four weeks from the 10 it had allocated for a door-to-door count of the hardest to reach communities, the move added a new sense of urgency to efforts to reach farmworkers and undocumented immigrants in Perris as well as other communities with different challenges around the country. The situation is likely to be even worse in communities and states where there is less government involvement in the census and fewer organizations on the ground to press for participation.
"We have to keep dodging bullets to reach our community, and now we have limited time," said Luz Gallegos, the director of TODEC Legal Center, an immigrant services provider that operates in Riverside and San Bernardino Counties. "We are going to continue to push until the deadline."
[Sign up for California Today, our daily newsletter from the Golden State.]
The Census Bureau announced on Monday that it will halt counting on Sept. 30, four weeks earlier than planned, cutting short door-knocking, which begins nationwide on Aug. 11, and the time people have to submit responses online, over the phone and by mail.
In March, the Census Bureau sent out invitations by mail to people across the country asking them to respond to the 2020 census. Next week, after a delay in outreach because of the coronavirus, census workers will start knocking on doors of homes whose residents have not yet participated.
The numbers are enormously important, especially in a poor community in need of all available federal resources. The count is used to reapportion all 435 House seats and thousands of state and local districts, as well as to divvy up trillions of dollars in federal grants and aid.
Census officials say they can still do an accurate count with the new deadline. "We will be hiring more people to knock on those doors so we can get to all of the households that haven't responded yet," a Census Bureau spokeswoman said. "Our recruiting pool, which is very large, puts us in a good position to do this."
But experts are skeptical.
"We will have a flawed census that will be fatal to certain groups," said Paul Ong, a researcher at U.C.L.A.'s Luskin School of Public Affairs who studies census participation and has served as an adviser to the Census Bureau.
Despite an unprecedented $187 million investment in outreach by the state and nonprofits in California, residents of Latino communities have been responding at lower rates than in 2010. Nationally, the trend is the same.
In some census tracts in far-flung areas of Riverside County, the response rate is hovering between 40 and 50 percent, about 10 percentage points behind the response rate a decade ago.
Even before the coronavirus hit, the census faced extraordinary challenges.
The Constitution requires a count of all residents, regardless of nationality or immigration status. California is home to almost 11 million immigrants, including about two million who are undocumented.
But President Trump pushed for 19 months, starting in 2018, to include a citizenship question on the decennial census, despite widespread criticism that it would dramatically depress responses, particularly from Latino immigrants. After the Supreme Court opposed the plan last year, Mr. Trump backed down.
Then last month he directed the government not to count undocumented immigrants for the purposes of reapportioning congressional seats. His policy memorandum would have the Census Bureau remove the immigrants from each state's count using data estimates. While the move is being challenged in court, it has sown confusion anew in immigrant communities.
For many immigrants, documented and undocumented, his repeated insistence on not counting undocumented people has sent what seemed like a clear message: Your participation is not wanted.
Liz and Daniel Rivera, undocumented Mexicans who have lived in Riverside County for 18 years, were too nervous to fill out the 2010 census, they said. But this year, after attending workshops at TODEC, they were persuaded to fill out the form.
"We understood that it was safe and that it was important to participate if we want funding to improve our schools, parks and roads," said Ms. Rivera, who said that she shared the information with friends and family.
But the couple delayed completing the online form after they, their two children and Ms. Rivera's father, who is living with them, fell ill with Covid-19. While at home, they heard about Mr. Trump's new presidential order to exclude undocumented immigrants from the count.
"We were so confused. We thought we weren't supposed to participate anymore," Ms. Rivera recalled.
She decided to call TODEC to inquire, just to be sure, and a staff member assured her that the Rivera household still had every right to take part. The couple plan to fill out the form next week.
Maria and Ramon Garcia, who have lived in the United States for two decades, said they had intended to complete the census until Mr. Trump's recent announcement. Now they fear that participating could land them in the cross hairs of immigration enforcement.
"We were told that we should be counted," said Mrs. Garcia, 50. "But then, just recently, we heard that the president doesn't want us to be counted, and we're worried that we could be deported if we participate."
The Garcias called TODEC's hotline on Friday to seek the legal center's advice but could not be convinced that participating was safe.
"We came here from Mexico many years ago. We pay taxes, we work hard and we don't want to put that in jeopardy," said Mr. Garcia, 57, who has a gardening business with his wife. "I don't think we should participate in the census."
Adán Chávez, deputy director of the national census program at the National Association of Latino Elected and Appointed Officials Educational Fund, said that reaction was widespread.
"We have had to contend with challenge after challenge, attack after attack that threatens our census work," he said.
The group has responded by intensifying its "¡Hagase Contar!" ("Be Counted") campaign, working with Spanish-language television to promote participation and calls to a hotline that answers questions and helps people complete the census in Spanish.
"Our lift was already much heavier in the middle of a pandemic," Mr. Chávez said. "Now we're having to tell people that everyone gets counted, it's your right. Don't worry."
According to an analysis of census data to be released next week by Mr. Ong's team, the estimated median response rate for Hispanics nationwide was 50 percent by August, down by nearly 13 percentage points from 2010. Among non-Hispanic whites, the estimated response rate was 69 percent, compared with 71 percent a decade ago.
States with large undocumented populations — California, Texas, Florida, New York, New Jersey and Illinois — stand to lose the most from an undercount.
TODEC volunteers began last year to go door-to-door in hard-to-count neighborhoods, in the rural reaches of Riverside County, to educate immigrants about the census. They erected booths at health fairs and hosted information sessions to educate people about the census.
But like other groups working in the field, it was forced to shift strategy — to phone banking, social media and Zoom info sessions in March, when the coronavirus began coursing through California.
On a Zoom call last Thursday titled, "The Census and My Community," which was also streamed on Facebook, TODEC staff and a Census Bureau representative spent a full hour trying to motivate Latinos to participate.
"If we respond, our community will get money. But if we aren't counted, it's as if we don't exist," said Lupe Camacho, the bureau's representative.
She appealed to their commonality as immigrants. "I'm from Mexico," said Ms. Camacho, who spoke in Spanish throughout the session. "I'm a naturalized citizen. But citizenship has nothing to do with this."
During the session, she described the census as "pure statistics," "completely confidential" and "posing no danger," all but pleading for participation.
"We don't pass on any information about anyone — not to the DMV, not to ICE, not to any city, state or federal authority," she said, referring to the department of motor vehicles and Immigration and Customs Enforcement.
In Perris, there were bright moments as well as cautionary ones.
Maria Estela Perez Gomez, 55, emerged from her beige house at the sight of the caravan. "We filled out our census form," she said excitedly, doing a little dance as a Mexican band that was part of the parade and procession played.
The hurdles have also motivated some people.
Montserrat Gomez, a 19-year-old college student, said the decision to curtail the count was one reason she joined the group of young adults, mostly children of immigrants, who marched through downtown Perris on Friday waving signs and distributing fliers.
"We need to convince them that they need to be counted so that the community receives the political representation and financial resources that it deserves," she said. "And now we have less time to do it."
Source: In California, It Will Take More Than a Parade to Save an Imperiled Census
Photo Credit…Christian Monterrosa for The New York Times
,
DeSantis parts with Trump in response to Surfside tragedy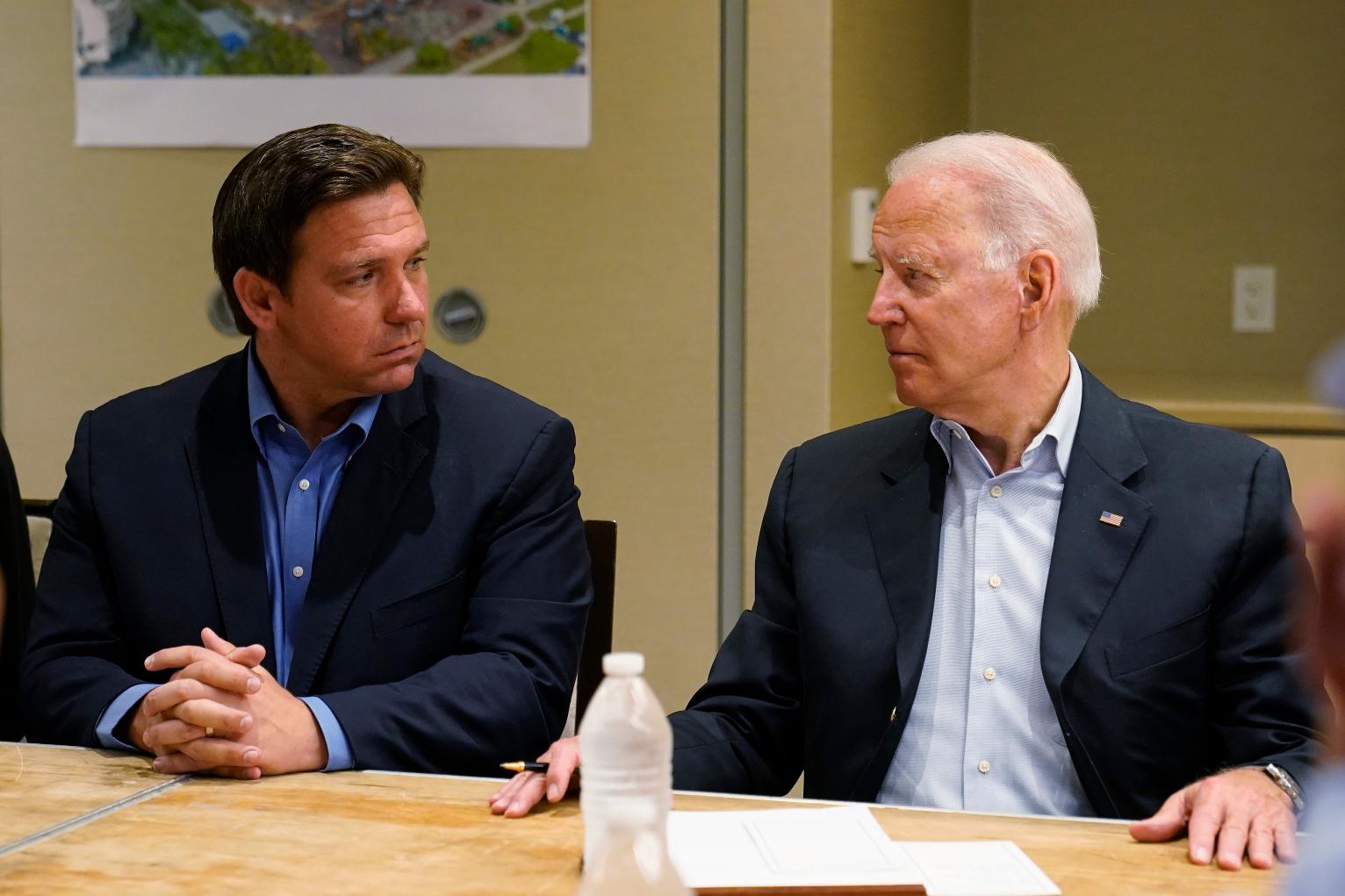 According to this article on Associated Press, by BOBBY CAINA CALVAN and STEVEN SLOAN
"SURFSIDE, Fla. (AP) — When the coronavirus ravaged Florida, Gov. Ron DeSantis defiantly bucked mask mandates. He later cracked down on protesters advocating racial justice, blasted President Joe Biden on immigration, jumped into the fight over transgender athletes and signed sweeping legislation to toughen voting rules.

But after a deadly building collapse, the Republican governor is largely hitting pause on the culture wars.

In the two weeks since a 12-story condo tower in this coastal community suddenly crumbled, killing at least 64 people, DeSantis has stood somberly with local officials, including Democrats, as they assessed the damage. He nodded in agreement when Biden visited and hailed their joint appearance as a sign that those with opposing political views can work together in a crisis. And he even skipped a rally in Sarasota headlined by former President Donald Trump, whose early endorsement was crucial in helping DeSantis win the governor's race in 2018."
Trump's border security theater hasn't ended — it's gotten worse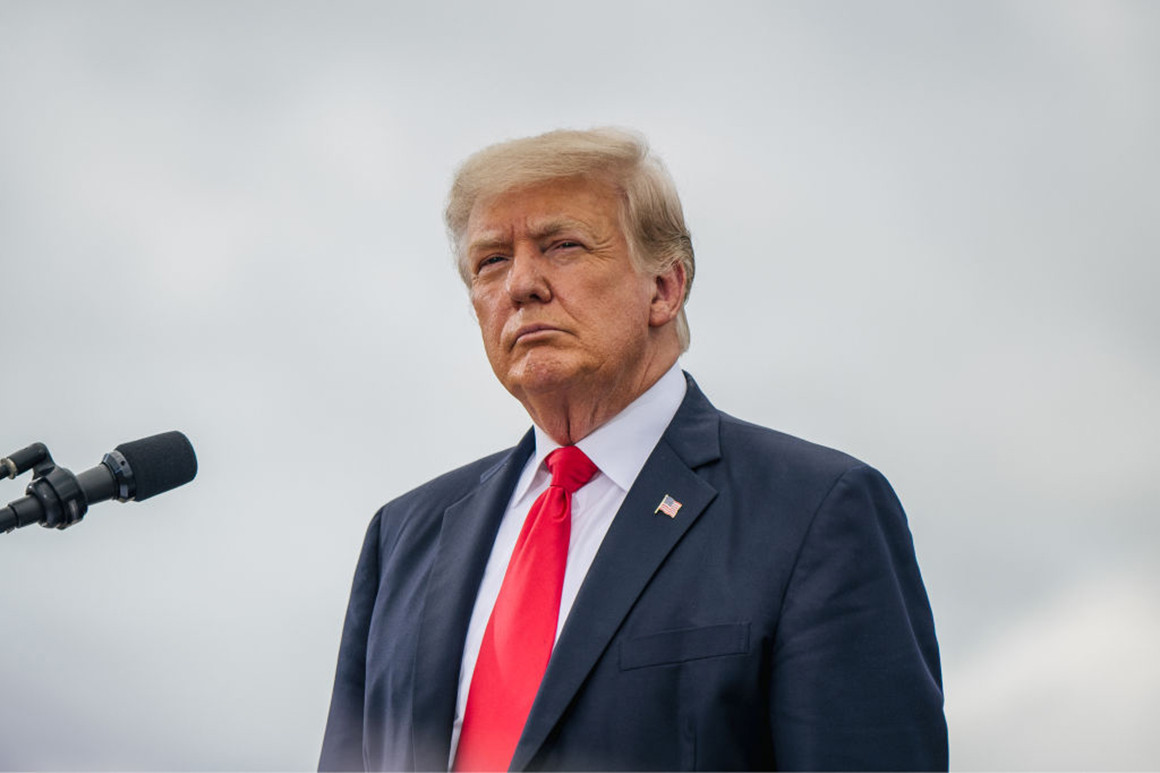 According to this article on MSNBC, by Hayes Brown, MSNBC Opinion Columnist
"There are a lot of problems with the U.S. immigration system. Of all the even halfway decent fixes that have been proposed over the years, though, sending in the military to deter immigrants at the southern border ranks pretty far down the list. And yet that's exactly what's happening, part of a process that I highly doubt will make anyone safer, be they a U.S. citizen or a migrant who has recently crossed the border.

In a rush of gubernatorial one-upmanship, National Guard troops and state police officers are being sent from around the country to fortify Texas and Arizona — sort of. Meanwhile, thousands of service members are unwilling participants in a farce, play-acting at an actual solution to immigration issues that have loomed over the country for decades now. Those federal troops whom former President Donald Trump first deployed ahead of the 2018 midterms will apparently spend another year doing, well, something along the southwestern border."
Texas Sheriffs Sue President Biden for Limiting Deportations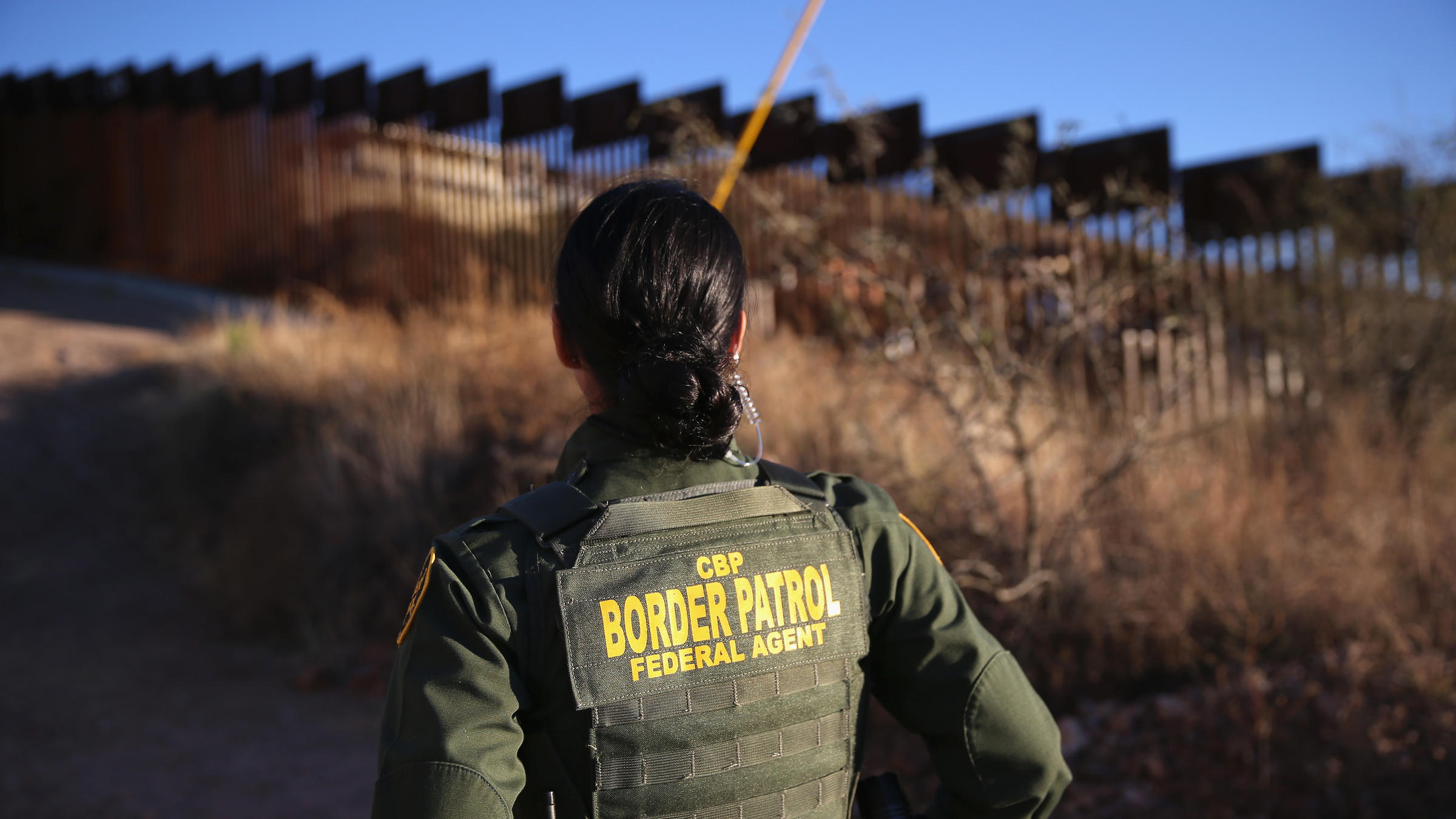 According to this article on Courthouse News Service, by CAMERON LANGFORD
"GALVESTON, Texas (CN) — Four Texas sheriffs and an association of Immigration and Customs Enforcement officers sued the Biden administration Thursday, claiming its policy limiting ICE from taking most arrested immigrants into custody for deportation is allowing "extremely dangerous illegal aliens" to be released onto the streets.

As part of President Joe Biden's pledge to take a more humane approach to immigration enforcement compared to the harsh policies of former President Donald Trump, the Biden administration issued a memo Feb. 18 directing ICE to focus on deporting immigrants who are national security or terrorist threats, gang members, those who have been convicted of certain aggravated felonies and any that entered the country after Nov. 1."