In California, It Will Take More Than a Parade to Save an Imperiled Census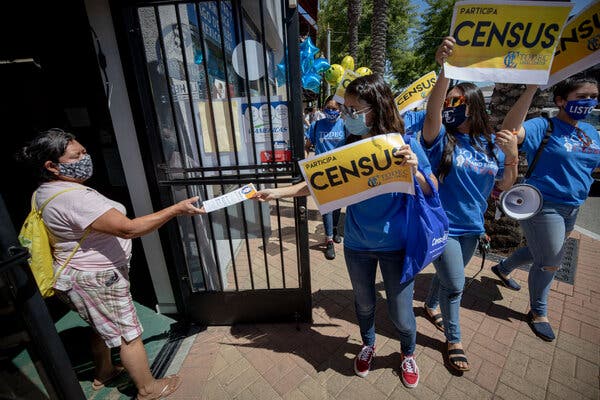 PERRIS, Calif. — For one day at least, as a 10-car parade of vehicles with honking horns, pompoms and signs reading "Get Counted" crawled through this predominantly Latino agricultural town about 70 miles east of Los Angeles on Friday, it was hard to forget that the 2020 census was going on and that it mattered.
Daniel Cordero, 63, a Mexican immigrant who shares a home with 15 people, including his wife, children and grandchildren, was just the kind of person that the event, billed as "Get Out the Count," was intended to reach.
But as he stepped out of his kitchenware store on D Street in downtown Perris on Friday to observe the parade, he wasn't quite sold. "We're working so hard, we don't have time to be filling out questionnaires," he said.
"I haven't filled it out," he added. "I have never filled it out." He took a flier from one of the volunteers, examining it like one of his customers contemplating his wares, and said that he might consider it. "It'd be the first time," he said without much enthusiasm, before returning to work in his store stocked with pots, pans, brooms and other household items.
It has always been a challenge to get an accurate count of people in places like this dusty working-class town of 80,000 people, where about three quarters of the population is Hispanic, many of them immigrants. Throw in a pandemic and a cascade of messages from President Trump making many Latinos wary of the census, and the challenge grows exponentially.
But when the Census Bureau on Monday said it would lop off four weeks from the 10 it had allocated for a door-to-door count of the hardest to reach communities, the move added a new sense of urgency to efforts to reach farmworkers and undocumented immigrants in Perris as well as other communities with different challenges around the country. The situation is likely to be even worse in communities and states where there is less government involvement in the census and fewer organizations on the ground to press for participation.
"We have to keep dodging bullets to reach our community, and now we have limited time," said Luz Gallegos, the director of TODEC Legal Center, an immigrant services provider that operates in Riverside and San Bernardino Counties. "We are going to continue to push until the deadline."
[Sign up for California Today, our daily newsletter from the Golden State.]
The Census Bureau announced on Monday that it will halt counting on Sept. 30, four weeks earlier than planned, cutting short door-knocking, which begins nationwide on Aug. 11, and the time people have to submit responses online, over the phone and by mail.
In March, the Census Bureau sent out invitations by mail to people across the country asking them to respond to the 2020 census. Next week, after a delay in outreach because of the coronavirus, census workers will start knocking on doors of homes whose residents have not yet participated.
The numbers are enormously important, especially in a poor community in need of all available federal resources. The count is used to reapportion all 435 House seats and thousands of state and local districts, as well as to divvy up trillions of dollars in federal grants and aid.
Census officials say they can still do an accurate count with the new deadline. "We will be hiring more people to knock on those doors so we can get to all of the households that haven't responded yet," a Census Bureau spokeswoman said. "Our recruiting pool, which is very large, puts us in a good position to do this."
But experts are skeptical.
"We will have a flawed census that will be fatal to certain groups," said Paul Ong, a researcher at U.C.L.A.'s Luskin School of Public Affairs who studies census participation and has served as an adviser to the Census Bureau.
Despite an unprecedented $187 million investment in outreach by the state and nonprofits in California, residents of Latino communities have been responding at lower rates than in 2010. Nationally, the trend is the same.
In some census tracts in far-flung areas of Riverside County, the response rate is hovering between 40 and 50 percent, about 10 percentage points behind the response rate a decade ago.
Even before the coronavirus hit, the census faced extraordinary challenges.
The Constitution requires a count of all residents, regardless of nationality or immigration status. California is home to almost 11 million immigrants, including about two million who are undocumented.
But President Trump pushed for 19 months, starting in 2018, to include a citizenship question on the decennial census, despite widespread criticism that it would dramatically depress responses, particularly from Latino immigrants. After the Supreme Court opposed the plan last year, Mr. Trump backed down.
Then last month he directed the government not to count undocumented immigrants for the purposes of reapportioning congressional seats. His policy memorandum would have the Census Bureau remove the immigrants from each state's count using data estimates. While the move is being challenged in court, it has sown confusion anew in immigrant communities.
For many immigrants, documented and undocumented, his repeated insistence on not counting undocumented people has sent what seemed like a clear message: Your participation is not wanted.
Liz and Daniel Rivera, undocumented Mexicans who have lived in Riverside County for 18 years, were too nervous to fill out the 2010 census, they said. But this year, after attending workshops at TODEC, they were persuaded to fill out the form.
"We understood that it was safe and that it was important to participate if we want funding to improve our schools, parks and roads," said Ms. Rivera, who said that she shared the information with friends and family.
But the couple delayed completing the online form after they, their two children and Ms. Rivera's father, who is living with them, fell ill with Covid-19. While at home, they heard about Mr. Trump's new presidential order to exclude undocumented immigrants from the count.
"We were so confused. We thought we weren't supposed to participate anymore," Ms. Rivera recalled.
She decided to call TODEC to inquire, just to be sure, and a staff member assured her that the Rivera household still had every right to take part. The couple plan to fill out the form next week.
Maria and Ramon Garcia, who have lived in the United States for two decades, said they had intended to complete the census until Mr. Trump's recent announcement. Now they fear that participating could land them in the cross hairs of immigration enforcement.
"We were told that we should be counted," said Mrs. Garcia, 50. "But then, just recently, we heard that the president doesn't want us to be counted, and we're worried that we could be deported if we participate."
The Garcias called TODEC's hotline on Friday to seek the legal center's advice but could not be convinced that participating was safe.
"We came here from Mexico many years ago. We pay taxes, we work hard and we don't want to put that in jeopardy," said Mr. Garcia, 57, who has a gardening business with his wife. "I don't think we should participate in the census."
Adán Chávez, deputy director of the national census program at the National Association of Latino Elected and Appointed Officials Educational Fund, said that reaction was widespread.
"We have had to contend with challenge after challenge, attack after attack that threatens our census work," he said.
The group has responded by intensifying its "¡Hagase Contar!" ("Be Counted") campaign, working with Spanish-language television to promote participation and calls to a hotline that answers questions and helps people complete the census in Spanish.
"Our lift was already much heavier in the middle of a pandemic," Mr. Chávez said. "Now we're having to tell people that everyone gets counted, it's your right. Don't worry."
According to an analysis of census data to be released next week by Mr. Ong's team, the estimated median response rate for Hispanics nationwide was 50 percent by August, down by nearly 13 percentage points from 2010. Among non-Hispanic whites, the estimated response rate was 69 percent, compared with 71 percent a decade ago.
States with large undocumented populations — California, Texas, Florida, New York, New Jersey and Illinois — stand to lose the most from an undercount.
TODEC volunteers began last year to go door-to-door in hard-to-count neighborhoods, in the rural reaches of Riverside County, to educate immigrants about the census. They erected booths at health fairs and hosted information sessions to educate people about the census.
But like other groups working in the field, it was forced to shift strategy — to phone banking, social media and Zoom info sessions in March, when the coronavirus began coursing through California.
On a Zoom call last Thursday titled, "The Census and My Community," which was also streamed on Facebook, TODEC staff and a Census Bureau representative spent a full hour trying to motivate Latinos to participate.
"If we respond, our community will get money. But if we aren't counted, it's as if we don't exist," said Lupe Camacho, the bureau's representative.
She appealed to their commonality as immigrants. "I'm from Mexico," said Ms. Camacho, who spoke in Spanish throughout the session. "I'm a naturalized citizen. But citizenship has nothing to do with this."
During the session, she described the census as "pure statistics," "completely confidential" and "posing no danger," all but pleading for participation.
"We don't pass on any information about anyone — not to the DMV, not to ICE, not to any city, state or federal authority," she said, referring to the department of motor vehicles and Immigration and Customs Enforcement.
In Perris, there were bright moments as well as cautionary ones.
Maria Estela Perez Gomez, 55, emerged from her beige house at the sight of the caravan. "We filled out our census form," she said excitedly, doing a little dance as a Mexican band that was part of the parade and procession played.
The hurdles have also motivated some people.
Montserrat Gomez, a 19-year-old college student, said the decision to curtail the count was one reason she joined the group of young adults, mostly children of immigrants, who marched through downtown Perris on Friday waving signs and distributing fliers.
"We need to convince them that they need to be counted so that the community receives the political representation and financial resources that it deserves," she said. "And now we have less time to do it."
Source: In California, It Will Take More Than a Parade to Save an Imperiled Census
Photo Credit…Christian Monterrosa for The New York Times
,
Biden plans sweeping reversal of Trump immigration agenda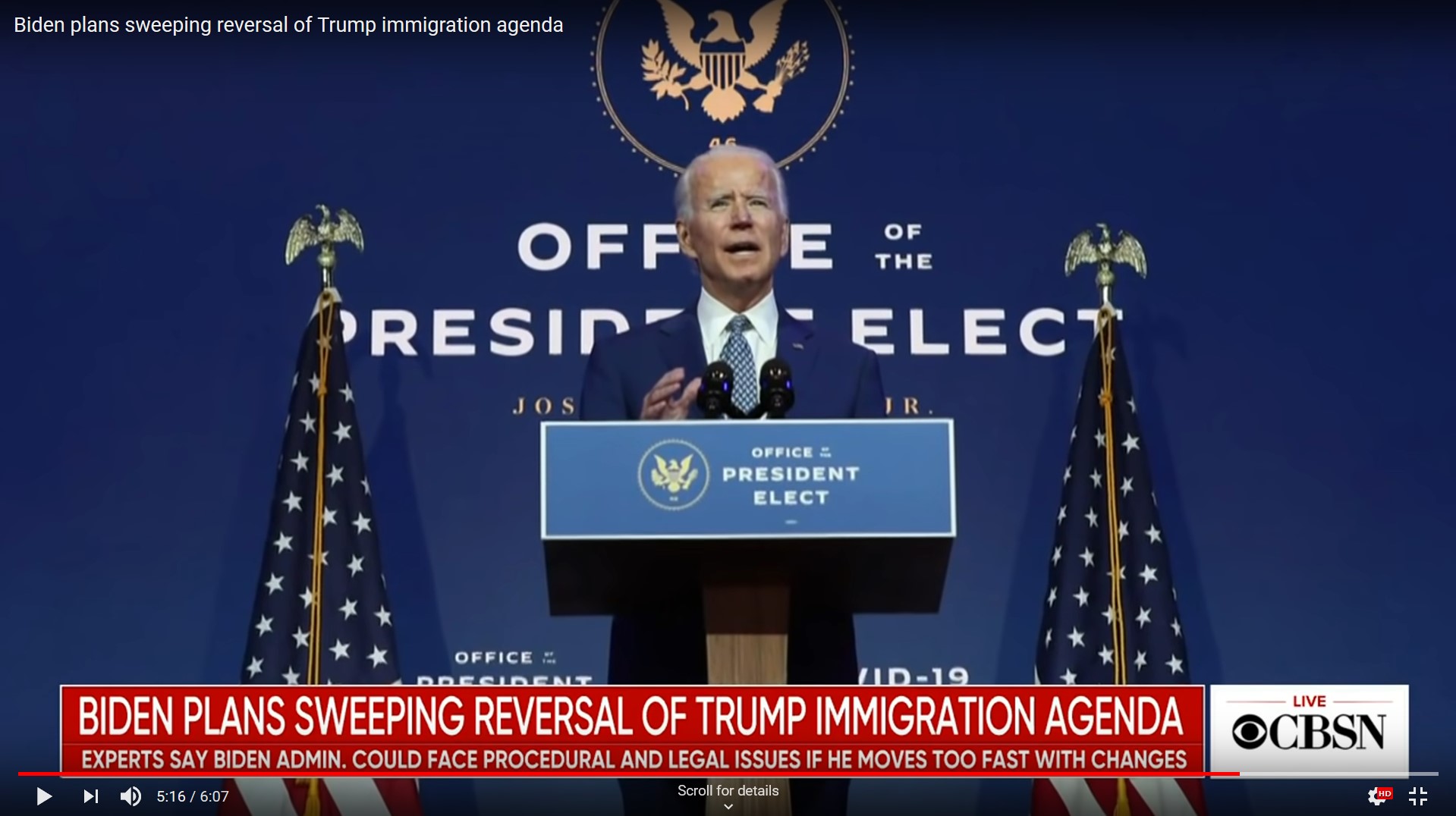 President-elect Joe Biden is planning a swift reversal of President Trump's most controversial immigration policies. CBS News' Camilo Montoya-Galvez reports the incoming Democrat plans to dismantle within his first 100 days much of the agenda Mr. Trump has laid out over the last four years. Montoya-Galvez joins CBSN to break down Mr. Biden's immigration plans.
Biden plans to unravel Trump's immigration policies during his first 100 days
Great news for DACA and Dreamers.
Where Does Joe Biden Stand on Immigration?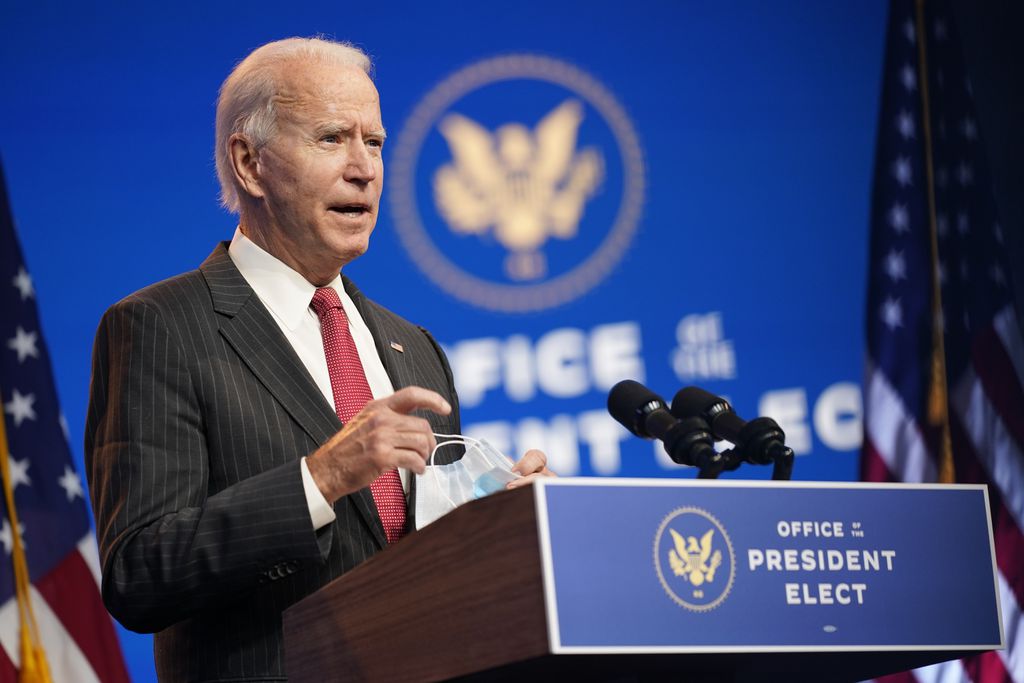 We are just 60 days away from Election day in the United States which falls on Tuesday, November 3rd. Do you know where your candidate stands on immigration? In this post, we cover Presidential nominee Joe Biden's stance on important immigration issues, and everything you need to know about his vision for America. We would,
We are just 60 days away from Election day in the United States which falls on Tuesday, November 3rd. Do you know where your candidate stands on immigration? In this post, we cover Presidential nominee Joe Biden's stance on important immigration issues, and everything you need to know about his vision for America.

We would also like to take this opportunity to remind those of our readers who are American citizens to exercise their right to vote. It is your civic duty and will help shape the nation's immigration policy for the next four years. For voter registration information please click here.

---

Immigration under Joe Biden

If elected President of the United States, Joe Biden has stated that he will enact a number of policies during his four-year term. Among these policies, he promises to take urgent action to undo destructive policies implemented by the Trump administration, modernize the immigration system, reassert America's commitment to asylum-seekers and refugees, and implement effective border screening.

---

Comprehensive Immigration Reform

First and foremost, Joe Biden supports working with Congress to pass a comprehensive immigration solution that would offer nearly 11 million undocumented immigrants a path to citizenship. As vice president, Joe Biden worked alongside former President Obama to push forward a bill that would do just that. Unfortunately, the Republican-led Congress refused to approve the bill, leaving millions of undocumented immigrants in limbo including Dreamers.

Joe Biden advocates for the creation and expansion of the Deferred Action for Childhood Arrivals program (DACA), the Deferred Action for Parents of Americans (DAPA) program,  the Central American Minors program, which allows parents with legal status in the U.S. to apply to bring their children from Central America to live with them, and the creation of a White House task force to support new Americans to integrate into American life and their communities.

---

Overview of Biden's Immigration Commitments

Temporary Seasonal Workers. Biden wishes to work with Congress to reform the current system of temporary work visas to allow seasonal workers in select industries to easily switch jobs, while certifying the labor market's need for foreign workers. Employers would be required to pay prevailing wages and ensure the right of all workers to join a union and exercise their labor rights.

High-skilled Temporary Visas. Biden will also work with Congress to reform temporary visas to establish a wage-based allocation process and create fraud prevention mechanisms. Biden supports expanding the number of high-skilled visas and eliminating the limits on employment-based visas by country, eliminating the backlogs.

Legalization for Agricultural Workers. For agricultural workers, Biden would support legislation between farmworkers and the agricultural industry to provide them with legal status based on prior agricultural work history, to ensure a "fast track" green card process ultimately workers them to apply for citizenship.

Removing Per-Country Cap Limitations. Biden is strongly against the current per-country cap visa limitations and the long waiting periods families must wait to be reunited. Biden will support a family-based immigration system allowing any approved applicant to receive a temporary non-immigrant visa until a permanent visa is processed, and will support legislation that treats spouses and children of green card holders as immediate relatives exempting them from the caps, and allowing parents to bring minor children with them at the time they immigrate.

Preserving the Diversity Visa Lottery Program. Biden will continue to support the diversity visa lottery program and preserve the program.

Increase Employment Based Visas. Regarding employment-based visas, Biden will work with Congress to increase the number of visas for permanent employment-based immigration and temporarily reduce the number of visas during times of high U.S. unemployment. Biden would exempt from any cap recent graduates of PhD programs in STEM fields in the US.

New Visa Category for Cities and Counties Seeking Immigrant Work. Biden supports creating a new visa category that would allow cities and counties to petition for higher levels of immigrant to support their growth, provided employers certify there are available jobs and no workers to fill them. Holders of these visas would need to work and reside in the city or county that petitioned them and be subject to certification protections similar to employment-based immigrants.

Expansion of U Visa Program. Biden will expand the U visa program to include eligibility for workers who report certain workplace crimes.

Increase visas for Domestic Violence Survivors and Victims of Crime. Finally, Biden plans to triple the current cap of 10,000 on U-visas and increase visas for domestic violence survivors.

---

Policy on Removal and Enforcement Actions

Joe Biden plans to focus his administration on prioritizing removal and enforcement actions on persons who pose a threat to national security and public safety. The Biden administration would not target the removal of working-class undocumented immigrants and their families. Biden also promises to end mass workplace raids and prevent enforcement actions and operations at sensitive locations including schools, hospitals, and places of worship.

With regard to the influx of undocumented immigration from Central America, the Biden administration would address the root of the problem, by securing bipartisan support and funding to countries in the Northern Triangle to help these countries tackle violence and insecurity, lack of economic opportunity, and corruption in the region.

---

Joe Biden's 100-Day Plan

Within his first 100 days in office, the Biden administration commits to:

Immediately reverse the Trump Administration's policies that have separated parents from children at the border, including ending prosecution of parents for minor immigration violations, and prioritizing family reunification.
Immediately reverse the Trump administration's public charge rule
End the "national emergency" imposed by the Trump administration to enable the Department of Defense to build a wall along the U.S./Mexico border
Protect Dreamers and their families, by reinstating the DACA program and exploring all legal options to protect families from inhumane separation
Restore and defend the naturalization process for green card holders by removing roadblocks to naturalization, addressing the application backlog and rejecting imposition of unreasonable fees
End the Trump administration's detrimental asylum policies
Rescind the travel and refugee bans also known as the "Muslim bans" by the Trump administration
Review Temporary Protected Status (TPS) for vulnerable populations and introduce a bill that will allow TPS/DED holders who have been in the country for an extended period of time, a path to citizenship
End the mismanagement of the asylum system to ensure asylum applications are processing fairly and efficiently
Increase humanitarian resources at the border through a network of organizations including faith-based shelters, non-governmental aid organizations, legal non-profits, and other organizations
End prolonged detention and investment in a case management program, by supporting the Flores agreement which prevents the detention of children indefinitely
Restore sensible enforcement prioritizes targeting threats to public safety and national security, and not workers and their families

To read more about Joe Biden's proposed policies on immigration please click here.

---
Source: Where Does Joe Biden Stand on Immigration?
,