How will the Trump administration's new immigration restrictions affect the US economy?
Trumps new 2020 immigration restrictions– A new White House executive order suspending temporary work visas and other avenues of legal immigration does "a big disservice to the American people," Brookings Senior Fellow Dany Bahar says. Bahar explains  in this podcast why the restrictions targeting high-skilled immigration hurt the U.S. economy, and the crucial role immigrants play as engines of economic growth and job creation.

Dany Bahar is a Turkish-born Swiss business executive and the founder of luxury automotive retailer ARES. His involvement in the automotive and motorsports industries began at Red Bull, where between 2003 and 2007 he led the launch of the Formula One teams Red Bull Racing and Scuderia Toro Rosso.

Adrianna Pita is the Assistant Director of Events at The Brookings InstitutionExperienced events manager and editor for more than 15 years at one of the nation's oldest and most prestigious think tanks, and now host of the Intersections podcast.
Trump suspends temporary work visas in the United States
On Monday, United States President Donald Trump signed an executive order to temporarily suspend certain work visas that will temporarily block foreign skilled employees, specialized workers, managers, and seasonal workers from entering the country until the end of 2020.
 Donald Trump believes that by signing the executive order on Monday he will open up 520,000 jobs for American workers and help reshape the economy after the pandemic. An official in the White House was asked how and where did President Trump get his magic 520,000 number, but couldn't come up with a reasonable answer, they  simply said it would "get Americans back to work as quickly as possible."
Who is affected by the

2020 immigration restrictions

? 
H-1B visas for high-skilled workers widely employed by America's tech industry, L visas often used by businesses to transfer foreign workers within a company, J-1 visas for foreign cultural and work exchanges, and H-2B visas for temporary workers in nonagricultural industries.
Visa holders' dependents, such as spouses and minor children, would be affected as well. They usually receive visas with limited work possibilities.
Who is not affected by the

2020 immigration restrictions

? 
Those who already have valid a visa or green card, whether inside or outside the country, or those who already applied for green cards or temporary visas from inside the U.S.
Others exempted under the order include spouses or children of U.S. citizens, those providing services deemed essential for the U.S. food supply, or if someone is of national interest as determined by the State Department or the Department of Homeland Security.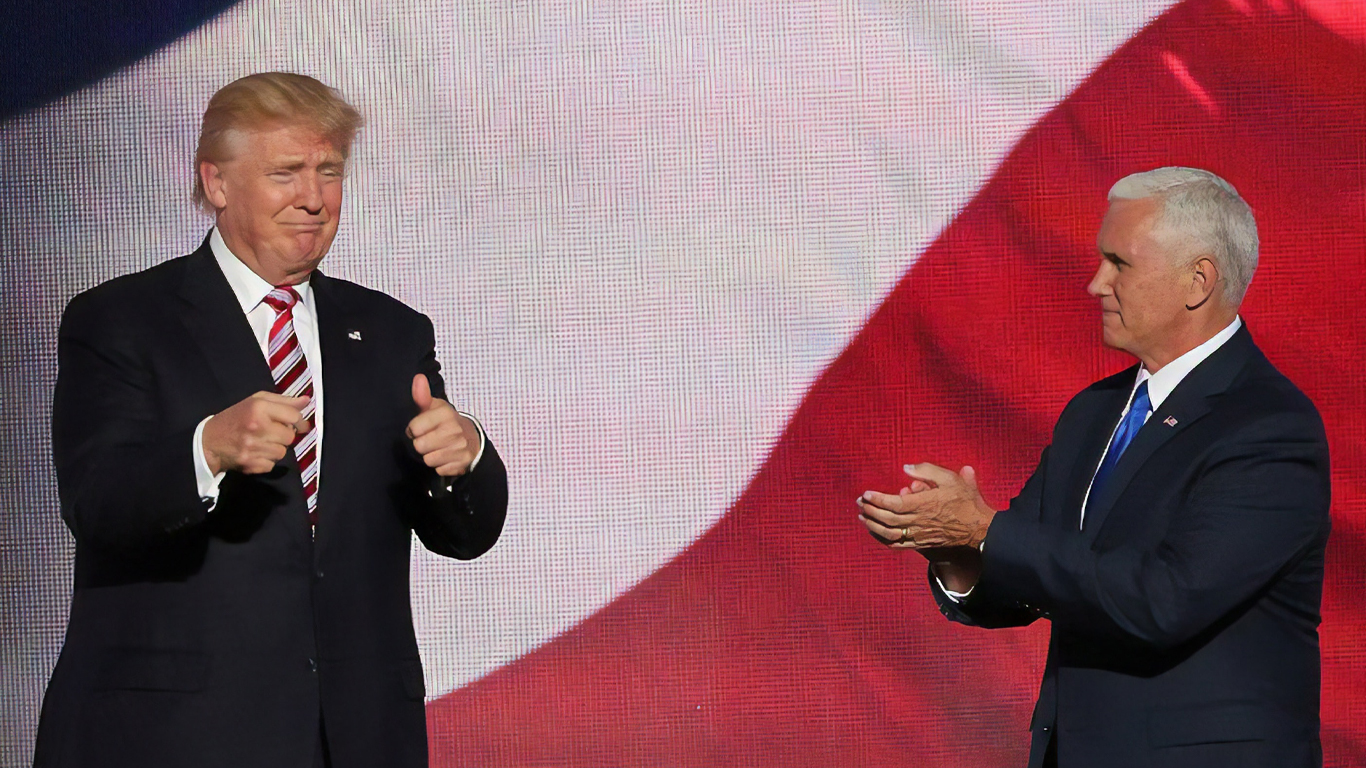 Trump believes as a Nation we must remain mindful of the impact of foreign workers on the United States labor market, especially during this time when there are high domestic unemployment and depressed demand for labor. He believes the  United States economy will require several months to get back on its feet, and several more months to restore to somewhat stable labor demand.  He also believes that by allowing the entry of certain aliens as immigrants and nonimmigrants, it would be detrimental to the interests of the United States. Therefore Donald J. Trump has signed Proclamation Suspending Entry to certain Aliens Who Present a Risk to the U.S. Labor Market Following the Coronavirus Outbreak. The continuance of Proclamation 10014 will go in effect immediately.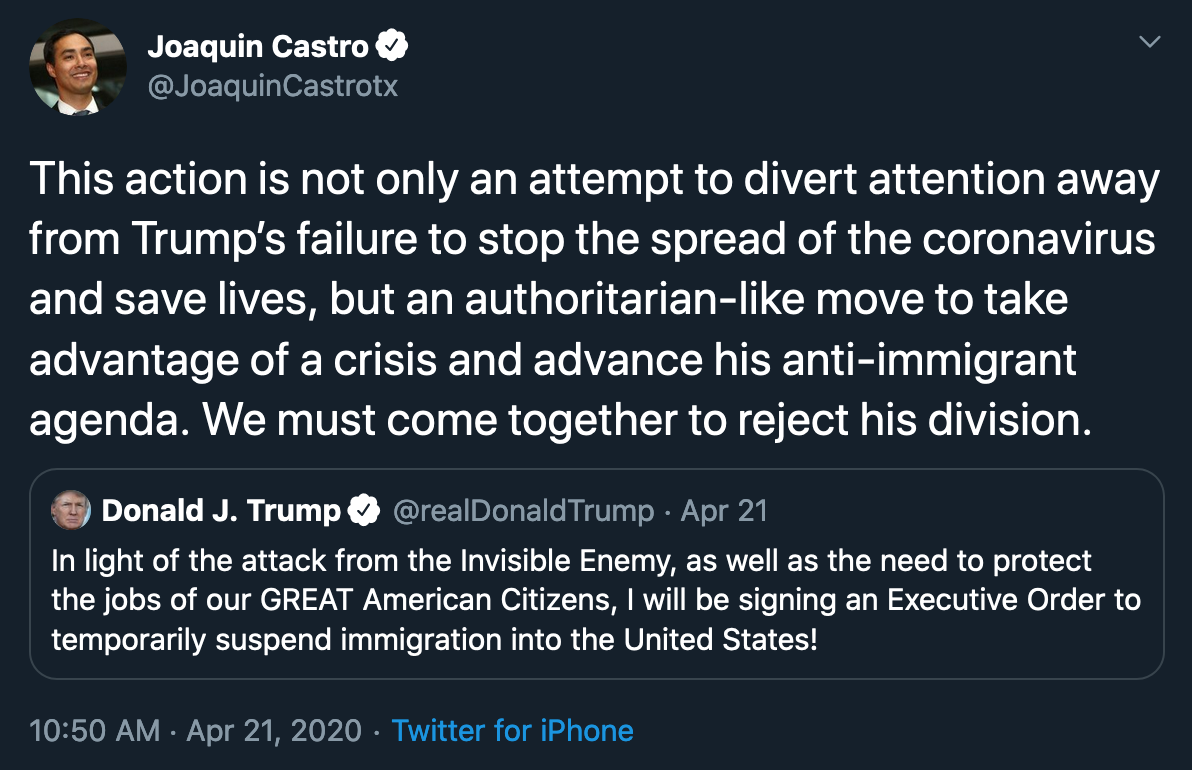 "This action is not only an attempt to divert attention away from Trump's failure to stop the spread of the coronavirus and save lives but an authoritarian-like move to take advantage of a crisis and advance his anti-immigrant agenda," Castro tweeted Monday night. "We must come together to reject his division."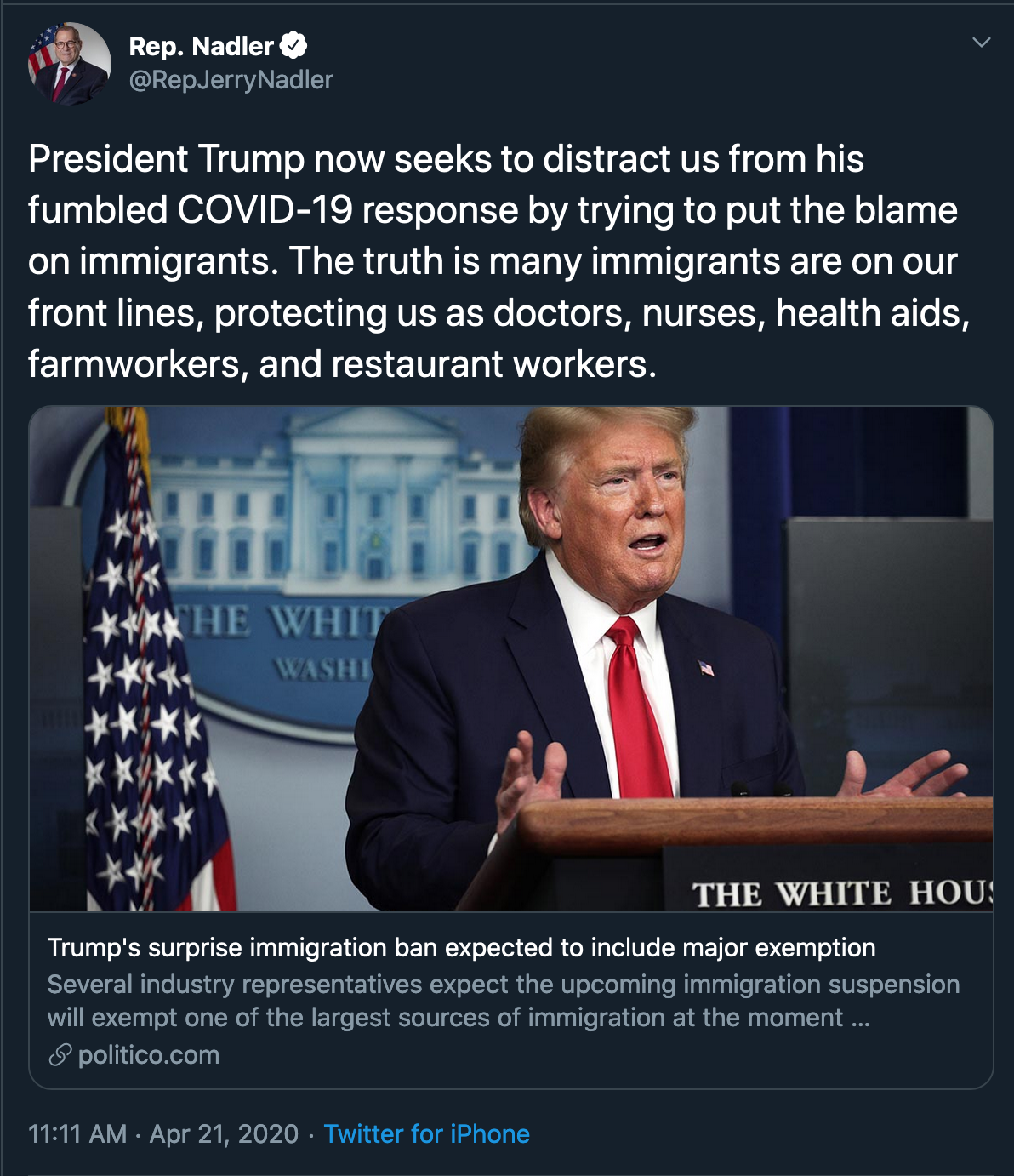 House Judiciary Chairman Jerry Nadler (D-N.Y.) echoed Castro, tweeting: "President Trump now seeks to distract us from his fumbled COVID-19 response by trying to put the blame on immigrants. The truth is many immigrants are on our front lines, protecting us as doctors, nurses, health aids, farmworkers, and restaurant workers."
Another recent article here: https://immigrationreformnews.com/mexican-border-control/
Source: How will the Trump administration's new immigration restrictions affect the US economy?
https://www.brookings.edu/series/the-current-podcast/
By Dany Bahar, Adrianna Pita
Lawyers say China using Interpol to seek dissident's return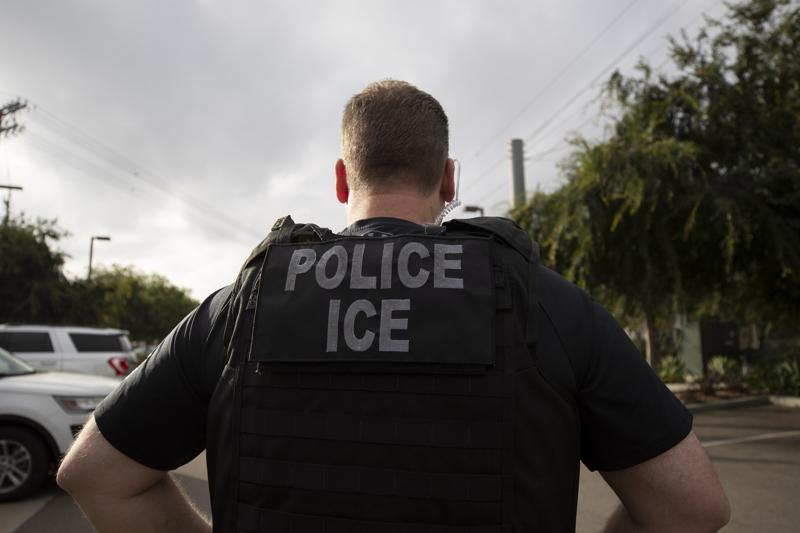 According to this article on Associated Press, by NOMAAN MERCHANT
"WASHINGTON (AP) — Attorneys are asking the Biden administration to release from immigration custody a Chinese democracy advocate who could be deported to his homeland to face what they say are false charges — despite the lack of an extradition treaty between the United States and China.

Human rights advocates say this is one of a handful of cases in which China has used the Interpol "red notice" system to try to force the return of fugitives from the United States. Under this system, a member country of the international police consortium can ask other countries to arrest and return fugitives living abroad. It's not clear how often, if ever, this tactic has resulted in the U.S. turning over detainees to Chinese authorities."
Biden administration tries to tackle large backlog in asylum cases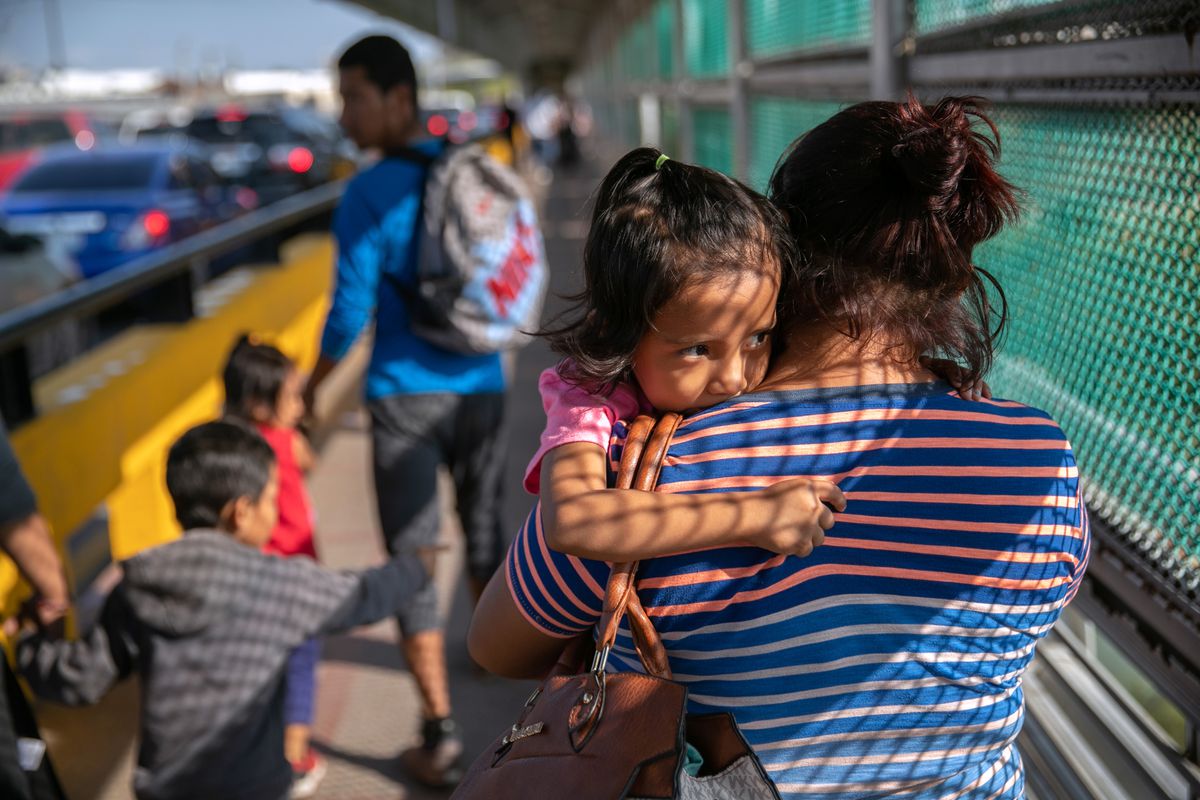 According to this article on Fox 43, by Claire Bermudez
"The Biden administration is reportedly moving forward with a plan to shift where asylum cases are handled, in an effort to tackle a sizeable backlog in applications.

The plan, as NPR reports, would try to speed up processing by allowing officials at the Department of Homeland Security to rule on claims without sending them to immigration court, where it would be ultimately up to immigration judges."
32 Children Who Were Deported To Guatemala Last Year In Violation Of A Court Order Have Yet To Be Brought Back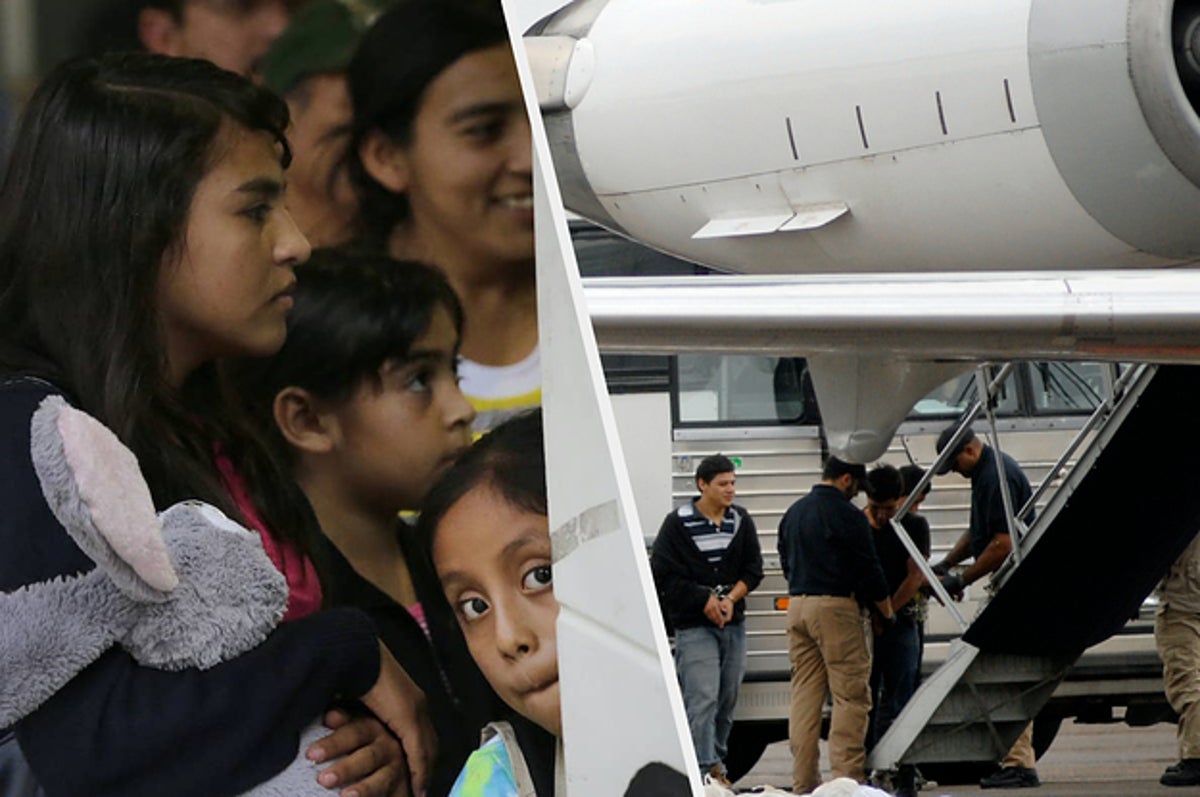 According to this article on BuzzFeed News, by Hamed Aleaziz
"Thirty-two unaccompanied immigrant children who were deported to Guatemala despite a judge's order have yet to be brought back to the US to apply for asylum, six months after the government admitted it was in the wrong. Now, immigration advocates are ramping up pressure on the Biden administration to speed up the process.

"It has been months since these children were expelled in violation of a court order and we need answers immediately," said Lee Gelernt, an attorney with the ACLU who led the lawsuit challenging the Trump-era policy. "The children need to be given a chance to speak to us as counsel and the option to return to the US if they choose.""