Trump Takes Night Off From Anti-Immigrant Talk to Swear In U.S. Citizens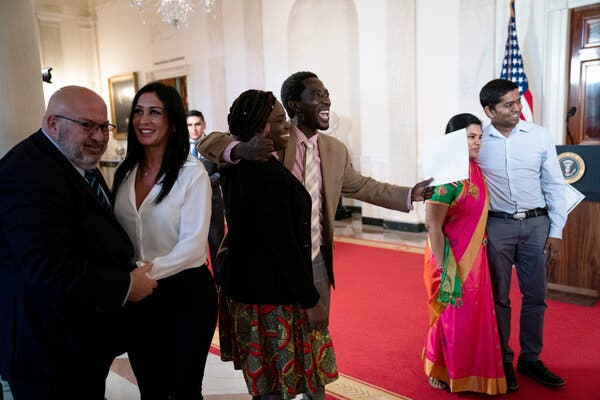 Five new American citizens were stunned to be naturalized at a White House ceremony during the Republican National Convention. Some said they did not know they were being broadcast until friends called to tell them. Salih Abdul Samad, center, and other new American citizens celebrating with their families after a naturalization ceremony at the White,
Five new American citizens were stunned to be naturalized at a White House ceremony during the Republican National Convention. Some said they did not know they were being broadcast until friends called to tell them.

Salih Abdul Samad, center, and other new American citizens celebrating with their families after a naturalization ceremony at the White House on Tuesday.Credit…Doug Mills/The New York Times

WASHINGTON —

President Trump moved within weeks of taking office to prohibit immigrants from Sudan from entering the United States, citing terrorism threats and including it in his travel ban on some predominantly Muslim countries — restrictions that remain partly in place today. But on Tuesday, when Mr. Trump wanted to portray himself as pro-immigrant, he invited Neimat Abdelazim Awadelseid, a Sudanese woman who had just qualified to become a U.S. citizen, and four others to a White House naturalization ceremony that his re-election campaign featured prominently during the Republican National Convention.

The president's willingness to use the trappings of presidential power during a campaign convention was a striking departure from previous presidents who avoided so blatantly blurring the lines between official actions and political activity. And Mr. Trump's declaration that "we welcome five absolutely incredible new members into our great American family" stands in stark contrast to his anti-immigrant policies, often fueled by xenophobic language.

His decision to preside over the naturalization ceremony appeared aimed at suburbanites, people of color and women put off by his usually strident talk.

Ms. Awadelseid, 66, a substitute teacher who works with Sudanese children in her suburban Virginia community, said in an interview that "it is hard for my country" to be subject to travel restrictions but that it was an honor to visit the White House.

"It is a special moment, to get it from a president of the United States, to give me the citizenship," she said. Ms. Awadelseid, who received a master's degree and a doctorate from the University of Wyoming, has lived full time in the United States since 2000. She said she did not like to talk about politics and did not say whether she was surprised that her ceremony was broadcast during the convention.

But others, including Sudha Sundari Narayanan, 35, who was also among the five people sworn in at the White House, said they had not been told.

"I was surprised and shocked and excited," said Ms. Narayanan, who immigrated to the United States in 2007 from India.

Ms. Narayanan, who said she did not have an opinion about Mr. Trump's immigration policies, said she found out that the ceremony aired during the convention only when an excited friend called her later that night telling her she was on television.

"I never dreamed that something like this would happen," Ms. Narayanan said. "I'm just a very simple girl trying to get my family running."

Salih Abdul Samad, a Ghanaian chef, also did not know that the event would be broadcast during the convention. By Wednesday morning, he had received messages from friends around the world about his new fame.

"When you call me, you have to go through security background checks because I'm a star," Mr. Abdul Samad, 44, joked. He added that he was thankful for the United States, particularly the Affordable Care Act, which he said saved his life when his kidneys failed six years ago.

"I'm so ever grateful to this country for what they've given me," Mr. Abdul Samad said.

The decision by Mr. Trump's campaign to feature the naturalization ceremony angered some senior officials with U.S. Citizenship and Immigration Services, which oversees the naturalization process. Several expressed frustration with what they described as a politicized event.

Some asylum officers confronted senior agency officials during a virtual town hall on Wednesday about whether Chad F. Wolf, the acting secretary of the Department of Homeland Security, had violated rules prohibiting political activity by presiding over the ceremony.

"It's one of the things that shouldn't be politicized, and you can hardly get more political than your partisan political convention," said Barbara Strack, a former chief of the refugee affairs division at Citizenship and Immigration Services during the Bush and Obama administrations.

White House officials said Wednesday that the ceremony, which featured Mr. Trump arriving to "Hail to the Chief," was an official government event because it was taped Tuesday afternoon and publicly made available on the White House website. A White House spokeswoman said the president's re-election campaign had simply decided to use it once it was on the website.

Planning for the event began early last week when White House officials reached out to the Washington office of the citizenship and immigration agency with a request to organize a naturalization ceremony at the White House, according to a senior administration official. Naturalization ceremonies have been held at the White House under previous presidents and Mr. Trump himself, but this appears to be the first time one has been broadcast during a political convention.

As the weekend approached, the White House officials requested information about the potential candidates for the ceremony and suggested the agency find immigrants from Mexico — something of a turnaround from Mr. Trump's usual messaging on Mexico. When he announced his candidacy in 2015, he warned of Mexican "rapists" coming to the United States, and he has spent nearly four years trying to build a wall on the U.S.-Mexico border. As it happened, no one from Mexico was at the ceremony.

Ms. Narayanan, from India, had traveled to the United States with her husband, who came on a student visa. Ms. Narayanan accompanied him on an F2 visa that allows spouses and dependents of foreign students at American schools to temporarily stay in the United States. Last July, the Trump administration proposed stripping international students of their visas if they exclusively took online courses during the coronavirus pandemic, but after an outcry from colleges and universities, the rule was rescinded.

Ms. Narayanan, who has two children born in the United States, obtained lawful permanent residency in 2013. She said she took her citizenship test and had her required interview just a week before she received a call about the ceremony at the White House.

"It was very warm and welcoming," Ms. Narayanan said of the event with the president. "I told him it was such an honor to meet him."

Ms. Awadelseid, from Sudan, studied at the University of Wyoming twice, first to get her master's in the early 1980s and then her doctorate in 1994. She said both degrees were in animal nutrition. She arrived in the United States permanently in 2000, and eventually got a green card through sponsorship by her brother, who had already become a citizen.

"The situation in Sudan was really not good politically and economically and everything," she said. "When we found the chance to be a permanent resident here in the U.S.A., we stayed."

She said she planned to quickly register to vote in the 2020 election.

"I'm excited about that," she said.

The other attendees included Rima Gedeon, 46, from Lebanon, who works at a preschool in Virginia, and Robert Alcocer, 32, from Bolivia, who works at a construction company.

While the administration highlighted the ceremony at the White House, employees with the citizenship and immigration agency say future naturalizations are likely to face delays. On the same day as the ceremony, the administration canceled furloughs for more than 13,400 agency employees by cutting costs that would slow down future naturalizations.

The Trump administration also moved late last month to raise the cost of naturalization applications by more than 80 percent and to substantially tighten eligibility requirements for a subsidized application.

Of all the contradictions about a White House naturalization ceremony during the Republican National Convention, the starkest of all may be that Mr. Trump himself started an initiative seeking to potentially strip the citizenship status of thousands of people — a departure from the past several decades of practice and Supreme Court precedent.

Mr. Trump's Justice Department announced in 2018 a goal of filing 1,600 denaturalization cases, a major acceleration of the previous use of denaturalization. Fewer than 150 people had been denaturalized in American courts in the previous 50 years, almost all of them Nazis, war criminals or people who were convicted of federal crimes tied to large-scale immigration fraud.

The president has largely blocked asylum seekers and refugees fleeing persecution, war and violence. He has built nearly 300 miles of border wall (though without persuading Mexico to pay for it, as he once insisted). He has made it harder for poor people to immigrate to the United States, imposed travel bans on predominantly Muslim countries and separated migrant children from their parents at the border.

At times, he has used racist messaging, condemning "shithole countries" and complaining that people from Haiti "have AIDS."

Mr. Abdul Samad said Wednesday that he found the president's comments about African nations as "very painful," but he was "very very honored and grateful" to Mr. Trump for inviting him to the White House.

"That doesn't mean that I can't criticize him or I won't criticize him when he does something bad or something I feel is not good," Mr. Abdul Samad said.

At the ceremony, Mr. Trump listened to the five immigrants take the oath of citizenship, then approached the lectern to briefly share each of their stories.

"Congratulations," he said. "That's fantastic. That's really great."

Last week, during a briefing from border officials in Yuma, Ariz., the president had similar praise for a very different achievement.

"That's fantastic. That's fantastic," he told border officials about the completion of nearly 300 miles of the border wall. "So, it's a great — it's a great feeling to have closed up the border."

Caitlin Dickerson contributed reporting from New York.
Source: Trump Takes Night Off From Anti-Immigrant Talk to Swear In U.S. Citizens
,
Biden plans sweeping reversal of Trump immigration agenda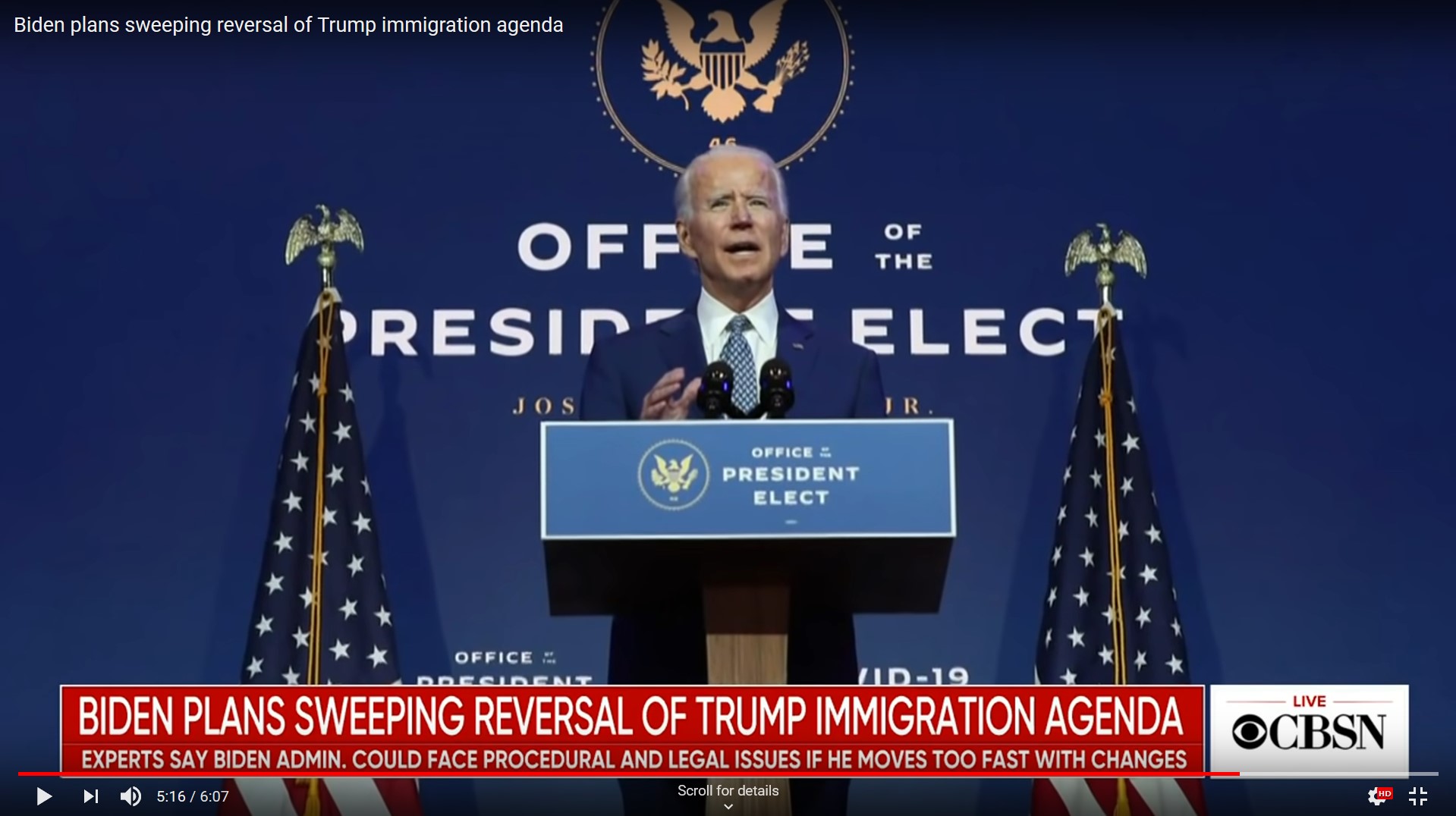 President-elect Joe Biden is planning a swift reversal of President Trump's most controversial immigration policies. CBS News' Camilo Montoya-Galvez reports the incoming Democrat plans to dismantle within his first 100 days much of the agenda Mr. Trump has laid out over the last four years. Montoya-Galvez joins CBSN to break down Mr. Biden's immigration plans.
Biden plans to unravel Trump's immigration policies during his first 100 days
Great news for DACA and Dreamers.
Where Does Joe Biden Stand on Immigration?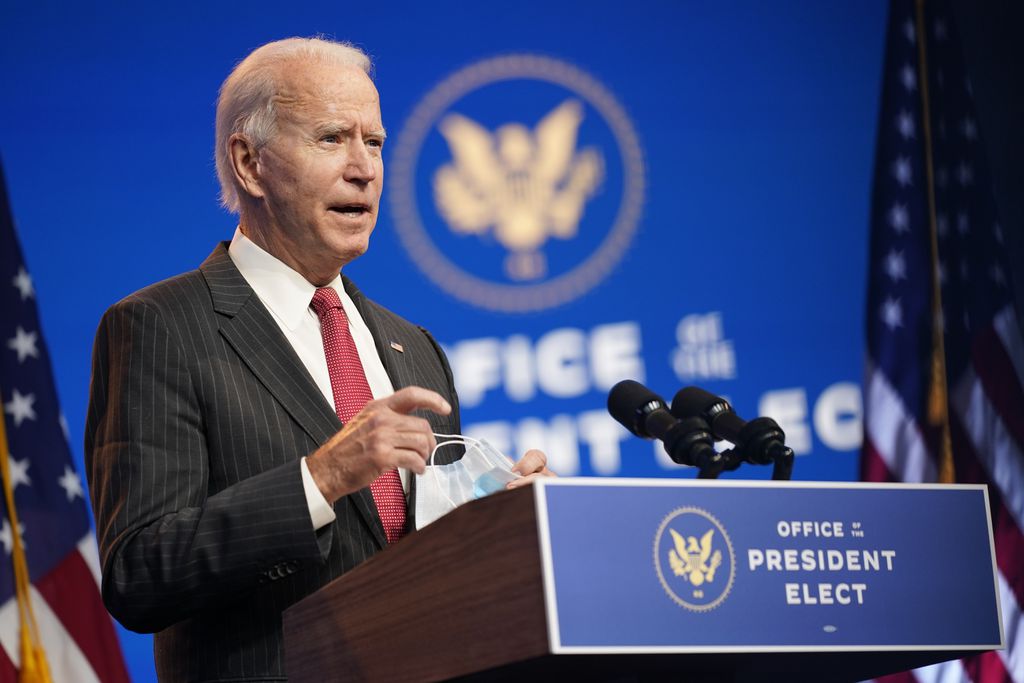 We are just 60 days away from Election day in the United States which falls on Tuesday, November 3rd. Do you know where your candidate stands on immigration? In this post, we cover Presidential nominee Joe Biden's stance on important immigration issues, and everything you need to know about his vision for America. We would,
We are just 60 days away from Election day in the United States which falls on Tuesday, November 3rd. Do you know where your candidate stands on immigration? In this post, we cover Presidential nominee Joe Biden's stance on important immigration issues, and everything you need to know about his vision for America.

We would also like to take this opportunity to remind those of our readers who are American citizens to exercise their right to vote. It is your civic duty and will help shape the nation's immigration policy for the next four years. For voter registration information please click here.

---

Immigration under Joe Biden

If elected President of the United States, Joe Biden has stated that he will enact a number of policies during his four-year term. Among these policies, he promises to take urgent action to undo destructive policies implemented by the Trump administration, modernize the immigration system, reassert America's commitment to asylum-seekers and refugees, and implement effective border screening.

---

Comprehensive Immigration Reform

First and foremost, Joe Biden supports working with Congress to pass a comprehensive immigration solution that would offer nearly 11 million undocumented immigrants a path to citizenship. As vice president, Joe Biden worked alongside former President Obama to push forward a bill that would do just that. Unfortunately, the Republican-led Congress refused to approve the bill, leaving millions of undocumented immigrants in limbo including Dreamers.

Joe Biden advocates for the creation and expansion of the Deferred Action for Childhood Arrivals program (DACA), the Deferred Action for Parents of Americans (DAPA) program,  the Central American Minors program, which allows parents with legal status in the U.S. to apply to bring their children from Central America to live with them, and the creation of a White House task force to support new Americans to integrate into American life and their communities.

---

Overview of Biden's Immigration Commitments

Temporary Seasonal Workers. Biden wishes to work with Congress to reform the current system of temporary work visas to allow seasonal workers in select industries to easily switch jobs, while certifying the labor market's need for foreign workers. Employers would be required to pay prevailing wages and ensure the right of all workers to join a union and exercise their labor rights.

High-skilled Temporary Visas. Biden will also work with Congress to reform temporary visas to establish a wage-based allocation process and create fraud prevention mechanisms. Biden supports expanding the number of high-skilled visas and eliminating the limits on employment-based visas by country, eliminating the backlogs.

Legalization for Agricultural Workers. For agricultural workers, Biden would support legislation between farmworkers and the agricultural industry to provide them with legal status based on prior agricultural work history, to ensure a "fast track" green card process ultimately workers them to apply for citizenship.

Removing Per-Country Cap Limitations. Biden is strongly against the current per-country cap visa limitations and the long waiting periods families must wait to be reunited. Biden will support a family-based immigration system allowing any approved applicant to receive a temporary non-immigrant visa until a permanent visa is processed, and will support legislation that treats spouses and children of green card holders as immediate relatives exempting them from the caps, and allowing parents to bring minor children with them at the time they immigrate.

Preserving the Diversity Visa Lottery Program. Biden will continue to support the diversity visa lottery program and preserve the program.

Increase Employment Based Visas. Regarding employment-based visas, Biden will work with Congress to increase the number of visas for permanent employment-based immigration and temporarily reduce the number of visas during times of high U.S. unemployment. Biden would exempt from any cap recent graduates of PhD programs in STEM fields in the US.

New Visa Category for Cities and Counties Seeking Immigrant Work. Biden supports creating a new visa category that would allow cities and counties to petition for higher levels of immigrant to support their growth, provided employers certify there are available jobs and no workers to fill them. Holders of these visas would need to work and reside in the city or county that petitioned them and be subject to certification protections similar to employment-based immigrants.

Expansion of U Visa Program. Biden will expand the U visa program to include eligibility for workers who report certain workplace crimes.

Increase visas for Domestic Violence Survivors and Victims of Crime. Finally, Biden plans to triple the current cap of 10,000 on U-visas and increase visas for domestic violence survivors.

---

Policy on Removal and Enforcement Actions

Joe Biden plans to focus his administration on prioritizing removal and enforcement actions on persons who pose a threat to national security and public safety. The Biden administration would not target the removal of working-class undocumented immigrants and their families. Biden also promises to end mass workplace raids and prevent enforcement actions and operations at sensitive locations including schools, hospitals, and places of worship.

With regard to the influx of undocumented immigration from Central America, the Biden administration would address the root of the problem, by securing bipartisan support and funding to countries in the Northern Triangle to help these countries tackle violence and insecurity, lack of economic opportunity, and corruption in the region.

---

Joe Biden's 100-Day Plan

Within his first 100 days in office, the Biden administration commits to:

Immediately reverse the Trump Administration's policies that have separated parents from children at the border, including ending prosecution of parents for minor immigration violations, and prioritizing family reunification.
Immediately reverse the Trump administration's public charge rule
End the "national emergency" imposed by the Trump administration to enable the Department of Defense to build a wall along the U.S./Mexico border
Protect Dreamers and their families, by reinstating the DACA program and exploring all legal options to protect families from inhumane separation
Restore and defend the naturalization process for green card holders by removing roadblocks to naturalization, addressing the application backlog and rejecting imposition of unreasonable fees
End the Trump administration's detrimental asylum policies
Rescind the travel and refugee bans also known as the "Muslim bans" by the Trump administration
Review Temporary Protected Status (TPS) for vulnerable populations and introduce a bill that will allow TPS/DED holders who have been in the country for an extended period of time, a path to citizenship
End the mismanagement of the asylum system to ensure asylum applications are processing fairly and efficiently
Increase humanitarian resources at the border through a network of organizations including faith-based shelters, non-governmental aid organizations, legal non-profits, and other organizations
End prolonged detention and investment in a case management program, by supporting the Flores agreement which prevents the detention of children indefinitely
Restore sensible enforcement prioritizes targeting threats to public safety and national security, and not workers and their families

To read more about Joe Biden's proposed policies on immigration please click here.

---
Source: Where Does Joe Biden Stand on Immigration?
,